Pakistan's Rising Air Pollution Crisis
As Pakistan's air gets worse and society demands action, how will the new government respond?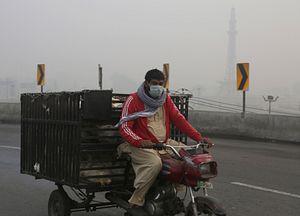 According to the World Health Organization (WHO), over 4 million people around the world succumb to air pollution-related illnesses on an annual basis, due to toxic air quality levels that go well beyond the standard guidelines outlined by the WHO.
In addition, the report also highlights countries such as China, India, Pakistan, and Bangladesh that have "increasing trends in PM2.5 exposure." However, while China has made some improvement in tackling air pollution, India, Pakistan, and Bangladesh "have experienced the steepest increases in air pollution levels since 2010 and now present the highest sustained PM2.5 concentrations."
In Pakistan, without any government intervention or even social awareness campaigns – informing citizens how to protect themselves from the toxic smog – the past few years have seen an extraordinary rise in air pollution, particularly during the onset of winter. According to a report by Lancet, a medical journal, approximately 22 percent of deaths in Pakistan each year are attributed to air pollution.
This led Abid Omar, a young entrepreneur based in Karachi, to initiate the Pakistan Air Quality Initiative (PAQI), which provides real-time data on air quality in the country. Having lived in Beijing, China, for a few years, Omar realized how imperative publicly available data was in instigating a much-needed call to action regarding China's air pollution issue.
"I saw how [it] helped change the conversation there; how the Beijing government first claimed ignorance, then started monitoring air quality and making the data accessible to the public," he said. "And finally, [how they] then started to implement policies that are trailblazing for excellence in environmental governance."
But on his home turf, Omar discovered that there was an alarming lack of data on air pollution levels in Pakistan. "When I saw that the government of Pakistan did not even have the equipment to measure air quality in 2016, I decided to set up my own air quality monitoring network."
After installing imported air quality monitors in the cities of Lahore, Islamabad, Peshawar, and Karachi, Omar says that through his platform, he was able to engage citizens who understood the gravity of the situation: The air in Pakistan truly does stand as an "invisible killer."