Pakistan's Climate Wake-up Call
The temporary blue skies brought by the COVID-19 slowdown have inspired soul-searching over Pakistan's current development path.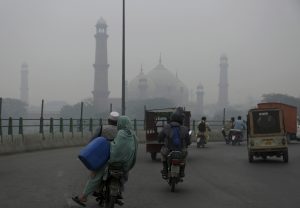 On April 19, almost a month after a nationwide lockdown had been imposed, Pakistan's second largest city, Lahore, witnessed a 63 percent plunge in average PM2.5 particulate matter pollution. Lahore was the world's most polluted city this past October, when seasonal smog takes air pollution to hazardous levels; the air was given a much-needed respite by the COVID-19 pandemic.
Similar falls in air pollutant levels were witnessed across Pakistan's urban centers – with nitrogen dioxide (NO2) levels in five major cities dropping by 20-56 percent – as lockdowns halted transportation, along with industrial and agricultural activities. The unrecognizable blueness of the skies brought out soul-searching vis-à-vis the current development plans and the environmental hazards that they churn out.
According to the U.S.-based Health Effects Institute (HEI), 135,000 people died in Pakistan because of air pollution in 2015. The medical journal The Lancet puts the annual figure over 300,000, maintaining that 22 percent of all deaths in Pakistan are linked to pollution.
A report by the Food and Agriculture Organization (FAO) of the United Nations and the Punjab government notes that the transport sector contributes almost half (43 percent) of the air pollution in the province. Industries contribute 25 percent, while 20 percent comes from agricultural activity.
"80 percent of year-round air pollution in Punjab is caused by the transport, energy, and industrial sector. That's mostly the filthy petrol and diesel used in the transport sector and the filthy coal and furnace oil used in the energy sector," environmental lawyer and Climate Action Now! activist Ahmad Rafay Alam tells The Diplomat.
Environmental activists have long urged the government to upgrade refineries, increase fuel quality and engine efficiency, as well as shelve fossil-fuel based energy sources. In November, Pakistan approved a National Electric Vehicles Policy (NEVP), which aims to have electric vehicles account for 30 percent of passenger vehicle and truck sales by 2030 and 90 percent by 2040. However, according to Alam, the policy has been "stymied by the domestic automobile lobby."