Polls and Party Room Infighting Undermine the Australian Government
Australia's revolving door of prime ministers is a symptom of a weakening political system.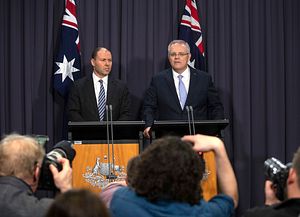 The Australian government has a long history of social and institutional reform. But despite its reputation as a progressive nation, its political system is struggling to withstand the forces of self-preservation and sabotage from within.
This is a distinct characteristic of representative democracies. Re-election, as former U.S. Senate staffer Jim Manley once famously argued, is more important than policy change. But as liberal democratic systems become more influenced by communication technologies and less responsive to a distrustful and varied electorate, their ability to translate progressive views into policy will further decline.
Last week, Australian Prime Minister Malcolm Turnbull lost the leadership of the center-right party, the Liberal Party of Australia and, subsequently, the leadership of the federal government after former Home Affairs Minister Peter Dutton launched a conservative insurgency. The motivating force behind the motion, as stated by Dutton, was due to a perceived lack of "strength and integrity", reflected by the loss of 34 consecutive opinion polls.
This was largely caused by a string of progressive policies that estranged the Liberal party's conservative base, including same sex marriage and a proposed price on carbon emissions — a historically treacherous issue for Australian politicians. Intensified by an outlier perception and a polarizing backbencher, Turnbull was unable to maintain the support of both the moderate and conservative factions, resulting in an abrupt halt to that party's broad ideological church.
Once controversially defending the origins of the Liberal party as progressive, Malcolm Turnbull was moderate in his politics, preferring to navigate the "sensible center" of the political spectrum. But by seeking to appeal to both sides of the party room during his prime ministership, Turnbull was unable to articulate a strong and consistent narrative, leaving himself exposed to both sides of the political aisle.
The result was the erosion of the Liberal party's conservative base, culminating in a separatist movement and an increase in electoral support for the far-right political party, One Nation. The final act was a backflip on a carbon reductions target which gave an indignant Tony Abbott – removed by the Liberal party in favor of Turnbull in 2015 – enough support to launch a leadership coup.
The revolving door of prime ministers is partly caused by the rules that govern spill motions. In an attempt to prevent future coups, in 2013 the Australian Labor Party, adopted a rule that requires contenders to win a majority of votes in the caucus and a grassroots party ballot. Currently, the Liberal party only requires the former.
However, as argued by senior political figures, it is also the increased influence of opinion polling and media networks that has caused Australia's fourth leadership spill in eight years. At his final press conference as prime minister, Turnbull attributed his downfall to a "determined insurgency backed by powerful voices in the media" whom, with the exception of Dutton, were not named.
Notwithstanding that, on the previous day, Chris Uhlmann, chief political correspondent for one of Australia's major commercial media networks, singled out media networks Sky News, News Corp and 2GB as "players in the game" who "waged war" against the prime minister, with reference to high-profile conservative commentators who supported Dutton's challenge on Twitter.
Parent companies News Corp and Fairfax Media are responsible for more than 85 percent of newspaper sales and control Australia's most authoritative opinion polling services. Regarded as Australia's home for conservative commentary, News Corporation's cable news channel Sky News is often compared to Fox News in the United States and will soon launch a national free-to-air service.
News Corp is owned by Australian-born global media magnate Rupert Murdoch. Former Labor Prime Minister Kevin Rudd opined that above the toxicity of Australian politics, Murdoch publications, he suggests, operate as a "political party with commercial interests," suggesting that he is using his newspapers to "protect his profitable cable television company from over-the-top competitors such as Netflix."
Regardless of the alleged interests of Murdoch, editors and commentators within News Corp are known for aggressively campaigning against progressive causes such as climate change, multiculturalism and asylum seekers. However, by coordinating their activities with politicians, as Uhlmann points out, "they have crossed the line" as political players.
Australia is confronted with a unique set of domestic and foreign policy issues. To illustrate just one, as one of the world's largest per capita emitters of carbon and the wealthiest country in a disaster-prone Pacific region, the Australian government must develop a policy framework that protects the environment whilst providing affordable energy to its citizens.
Without a fair and politically discharged media landscape, policy dialogue and the relationships between electorates and their politicians will continue to be influenced by a handful of media commentators. Moreover, as political actors continue to prioritize personality politics over long term decision making, Australia will continue to react abruptly to its policy challenges.
Patrick Stafrace is a corporate and public affairs adviser currently based in Melbourne, Australia.