The Bishop-Ri Meeting: Another Missed Opportunity for Australia
'Nuclear tunnel vision' strikes again as Australia misses another opportunity to refresh its North Korea policy.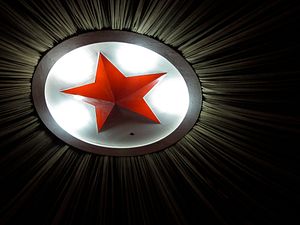 High-level diplomatic encounters between Australian and North Korean officials have been few and far between for more than a decade. As such, the albeit brief meeting between Australian Foreign Minister Julie Bishop and her North Korean counterpart Ri Yong Ho on the sidelines of the 25th ASEAN Regional Forum in Singapore last week occurred somewhat out of the blue.
The last such encounter between the two nations occurred in August 2004 when then-Australian Foreign Minister Alexander Downer visited Pyongyang in a bid to defuse nuclear tensions between the United States and North Korea. Ahead of that trip, Downer had made the case that Australia was an actor with the capacity to make significant contributions to peace and stability on the Korean Peninsula, and highlighted the relatively robust diplomatic and personal links between Canberra and Pyongyang as the basis for his claim — at the time, North Korea still maintained an embassy in Canberra. While the visit did not achieved the desired goal of defusing nuclear tensions (North Korea declared itself a nuclear weapons state six months later), it certainly contributed to Australia's profile as a proactive middle power capable of operating with a degree of independence. With the closure of Pyongyang's Canberra mission in 2008, however, sustained diplomatic engagement between the two states appeared to fall by the wayside.
That Bishop actively sought an opportunity to meet with Ri in Singapore initially appeared to signal that Australia had finally decided to inject some fresh initiative into its engagement with North Korea. Unfortunately, the meeting produced relatively little beyond an entirely expected noncommittal response from Ri to Bishop's equally predictable pressing on the denuclearization issue, though the Australian foreign minister's request of North Korea to consider repatriating the remains of Australian soldiers killed in action during the Korean War marked a small deviation from Canberra's obsession with CVID (complete, verifiable, and irreversible denuclearization). Such has been the state of Australia's Korea policy of late that the fact that Bishop raised anything other than the nuclear issue ought to be cause for minor celebration. From a more critical perspective, however, Australia has missed yet another opportunity to reinvigorate its Korea policy.
There is a growing consensus amongst Australian commentators that Canberra's Korea policy is underdeveloped, exclusively reactionary, and devoid of the sort of ambition that Downer exhibited 14 years ago. As I have argued in greater detail elsewhere, this is largely a symptom of Canberra's "nuclear tunnel vision" — a fixation with Pyongyang's nuclear weapons program — and an inability to perceive affairs on the peninsula independently of U.S. foreign policy. That the subject matter raised by Bishop essentially mirrored the primary topics of denuclearization and war remains that currently occupy American diplomacy with North Korea — Bishop explicitly highlighted the return of U.S. war dead remains as the basis for her own request — only seems to confirm that argument.
It is hard to see the remains of Australian soldiers returning home anytime soon, unless U.S. Secretary of State Mike Pompeo plans to second Bishop's request on his next encounter with Ri. As symbolic as the repatriation issue may be for Australia, it lacks the sort of influence or profile on the peninsula that might otherwise incentivize North Korea into action. North Korea does not exactly have a strong record of making these sorts of non-reciprocal gestures, let alone for peripheral interest groups in peninsular affairs, however concerned, such as Australia.
It is not as if the nuclear and repatriation issues are Australia's only interests on the Korean Peninsula. Again, as I have argued before, as a middle power and a current member of the UN Human Rights Council, Australia is in a good position to contribute to trust-building processes between North Korea and the rest of the world by increasing bilateral diplomatic engagement and pursuing particular human rights issues, an agenda which could also benefit Canberra's ties with Seoul (who also sits on the Council). There is an implicit assumption whenever someone suggests pursuing human rights dialogue with North Korea that the subject invariably leads to confrontation. This view has informed the efforts of the primary participants in ongoing diplomacy, including the self-proclaimed "human rights presidency" of South Korean President Moon Jae-in, to avoid the issue of human rights altogether.
Yet there remains scope for engaging Pyongyang on an issue traditionally regarded as a sore spot for the regime. Kim Jong Un's pledge to reprioritize economic development ahead of nuclear weapons development (note: as opposed to production) might signal that Pyongyang could be more receptive to "acceptable" or niche human rights overtures. North Korea has in the past demonstrated a capacity to cooperate on certain human rights issues. If current diplomatic efforts are directed at "trust-building," then seeking to cooperate on issues of mutual interest would seem the logical route. As a middle power, the human rights avenue is a decent route for Australia to take in order to contribute to amicable relations on the peninsula. Snapping out of nuclear tunnel vision in such a manner would also undoubtedly benefit Australia's overall standing in both Koreas and complement its reputation as a constructive Indo-Pacific middle-power more generally.
That, of course, ultimately depends on whether Canberra has the will to think outside the box and refresh its Korea policy. Yet if the Bishop-Ri meeting is anything to go by, there is not a lot of cause for optimism — for now.
Tom Corben is a research intern with the United States Studies Centre at the University of Sydney. The views expressed here are his own and do not reflect those of the aforementioned institutions.