Trump's North Korea Tweets Are Double Trouble for South Korea
While the North Korea setback gets the headlines, Trump's trade war with China might be worse news for South Korea.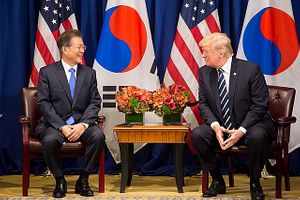 U.S. President Trump's tweets last Friday cancelling Secretary of State Mike Pompeo's planned visit to Pyongyang raised concerns about a potential gap emerging between Seoul and Washington over North Korea policy, but they also highlight the challenges ahead for the South Korean economy.
In defending his decision to cancel the meeting, Trump claimed talks were "not making sufficient progress." He blamed China for not putting enough pressure on North Korean leader Kim Jong Un, ascribing this to the ongoing tensions from his "tougher" stance against Beijing on trade. Perhaps most troubling was that he then suggested Pompeo's visit would likely only come after the U.S.-China trade relationship is resolved. By tying the resolution of the North Korea nuclear issue to the U.S.-China trade war, Trump is in effect attempting to link one protracted issue to another dispute that may only just be starting, one with disastrous implications for the South Korean economy.
Trump's trade war with China is escalating and does not have any clear, achievable objectives, leading many experts to conclude that there is no end in sight. After the administration's initial efforts to work out a bilateral resolution failed  – due to the exorbitant demands that Beijing cut their bilateral trade deficit by $200 billion – the United States imposed a 25 percent tariff on $34 billion worth of Chinese imports in July, starting a retaliatory cycle in which 17 percent of U.S.-China trade is now subject to tariffs and more is threatened.
South Korea has gone to great lengths to minimize the direct economic impact of Trump's "America First" economic policy, the same force behind the U.S.-China trade war. Seoul renegotiated the U.S.-Korea Free Trade Agreement (KORUS FTA) to principally address the White House's concerns with the bilateral trade imbalance in autos, possibly shielding South Korea against auto tariffs under consideration by the Trump administration. President Moon Jae-in also agreed to a 70 percent export quota on steel to avoid U.S. tariffs, though Seoul has turned to the WTO to contest the tariffs on washing machines and solar panels.
However, the biggest threat to the South Korean economy could come indirectly through the trade war. South Korea's export dependency has steadily decreased over the past few years, though the $574 billion in exports last year were still around 40 percent of GDP. Of these exports, 62 percent – over $350 billion – are tied to global supply chains. For a country as reliant on the global economy as South Korea, a trade war in which the agitants are the world's largest manufacturing base and consumer market as well as your largest and second largest export destinations, respectively, does not bode well for your own economy.
Although the complexity of global supply chains makes it difficult to predict how exactly South Korea will be impacted by the trade war, the possible economic damage is substantial. The White House may be trying to cut down on imports of consumer electronics from China, but by placing tariffs on electronic components, including semiconductors, they are actually targeting some of South Korea's most competitive industries. According to UN Comtrade, of the $142 billion goods South Korea exported to China last year, nearly $58 billion were electronics. This relationship is so large that it constitutes over 10 percent of total South Korean exports.
Moon has attempted to diversify economic growth by trying to foster greater domestic demand as well as trade with South and Southeast Asia through the New Southern Policy. These measures to cut down on external risks, however, have only had a limited effect so far and are unlikely to overcome the structural challenges that have left South Korea exposed to the U.S.-China trade war.
While the new extended time frame Trump has suggested on North Korea has grabbed headlines, the scope of damage to the South Korean economy from a trade war in the interim simply cannot be overlooked.