Why Did Australia Block Huawei, ZTE From 5G Roll out?
The Diplomat spoke to Bates Gill about the decision and Canberra's relations with Beijing.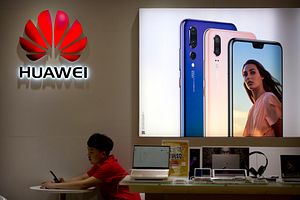 Last week the Australian government blocked the Chinese-owned telecommunications company Huawei from being involved in the roll out of Australia's 5G mobile network. Without naming names the government stated that the involvement of a company "likely to be subject to extrajudicial directions from a foreign government" was considered too much of a security risk. The Diplomat spoke to Bates Gill, Professor of Asia-Pacific Security Studies at Macquarie University in Sydney, to understand why the government had taken this course of action, and what the implications are for Canberra's relationship with Beijing.  
What are the concerns that Australia would have over Huawei's involvement in the implementation of Australia's 5G network?   
Concerns arise from a confluence of two problems, one technical, one political. On the technical side, in a nutshell, the future 5G network is considered critical infrastructure. It will be an IT platform on which day-to-day life and society will depend, providing support for the smooth and efficient flow of such important systems as energy and water supplies, telecommunications, transportation, financial services, medical records, and much more. As such, insider knowledge of the 5G network — which its builders and operators would possess — could not only provide access to sensitive information within those systems, but could also allow those builders and operators to disrupt those systems if they chose to. So, the decision about who should build and operate the 5G network is a highly sensitive one.
Politically, Huawei (and ZTE) are seen as too close to the ruling Chinese Communist Party and have had their share of controversial dealings in the past. In a word, governments such as in the United States and now Australia do not fully trust them to operate independently from Beijing.
Huawei has consistently denied that it has links to the Chinese government, and that it operates on its behalf. Why do Australia's intelligence agencies believe these denials lack credibility?
It boils down to whether any Chinese firm can claim to be fully independent from the regime in Beijing, and, landing on the side of caution, these intelligence agencies have concluded "no."  There is merit to this caution. The Chinese ruling party and government have enormous influence over Chinese companies and citizens to oblige them to act on behalf of party and government interests. Like almost any government, this would be especially true in times of crisis or war. Presumably, Australian intelligence assessments are backed up by consultations with other intelligence agencies such as in the United States.
It does not help Huawei's public image or perceptions of reliability that it was founded and is still led by a former engineer with the Chinese People's Liberation Army, Ren Zhengfei.
Will this set a precedent for other Chinese companies looking to invest in Australia? Or indeed for all foreign investment in industries considered sensitive?
Not necessarily, and it should not. The decision affecting Huawei and ZTE has been a long time in gestation, and most analysts knew long ago which way it was going to go. In a sense, the political and economic market had already adjusted ahead of the decision last week. It has been made clear over the past year and a half that Australia would ring-fence its critical infrastructure and carefully scrutinize, and if necessary block, foreign investment in such projects. The key for Australia is to be transparent and consistent so that investors know well in advance what is off-limits. Other key areas for investment — in business, real estate, agriculture, extractive industries, and more — should and will be open to foreign investment, including from China.
Relations between Canberra and Beijing have been less than warm recently. Do you think there is potential for the new prime minister, and new foreign and trade ministers, to recalibrate the relationship? Or are current difficulties structural?  
"Less than warm" is putting it nicely. I prefer to say that while the relationship is not exactly in the deep-freeze, it has definitely been in the crisper drawer. Both former Prime Minister Turnbull and former Foreign Minister Bishop had been upbraided by Beijing and/or its quasi-official mouthpieces, so the Chinese may be happy to see them go.
But even so, with Malcolm Turnbull's departure, his recent attempt at a "reset" has been overtaken by events and is unlikely to get much traction now, at least for the near-term. But even the so-called reset was going to face some serious uphill challenges owing to structural aspects of the relationship: Australia has not yet landed on a consensus strategy which takes fullest advantage of the benefits of relations with China while deflecting the threats and challenges that relationship also carries.  
That is a difficult conundrum and not easily resolved. In the meantime, the relationship will be characterized by mistrust and vacillation.
It will be interesting to see whether the new government pursues the annual prime minister summit which is part of the Australia-China strategic partnership agreement. Beijing has kept this meeting on hold for 2018 owing to its unhappiness with Canberra. If either Canberra or Beijing take up a high-profile summit as a priority in the remaining months of 2018, that would be a sign that the relationship is on the upswing — but I am not all that confident at this stage that will happen.