Will Japan and the UK Collaborate on Sixth-Generation Tempest Future Fighter Aircraft?
Japan and the United Kingdom are exploring options to collaborate on a new advanced stealth fighter jet.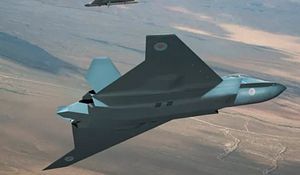 Japan and the United Kingdom (UK) may collaborate in some capacity on the latter's Tempest Future Fighter Aircraft project, which aims to field a sixth-generation stealth fighter for the Royal Air Force (RAF) by 2035. A full-sized mockup of the Tempest fighter jet was first publicly revealed at the 2018 Farnborough International Airshow in mid-July.
Japanese Defense Minister Itsunori Onodera confirmed last month that the Japan and the UK had "an exchange of opinions" on the Tempest Future Fighter Aircraft project noting that London is "looking for international joint development partners."
Japan has also been looking for international partners to collaborate with Mitsubishi Heavy Industries and various Japanese sub-contractors on a new fighter aircraft, tentatively named the (F-3) Future Fighter Program. The Japan Air Self Defense Force (JASDF) has a requirement for up to 100 new stealth fighter jets.
"As for how the UK's recently announced strategy [Combat Air Strategy PDF] will affect the possibility of a joint project between Japan and the UK, we hope to discern that through discussions and exchanges of opinions with the UK moving forward," Onodera said.
The Tempest Future Fighter Aircraft project is headed by BAE Systems alongside project partners Italian defense contractor Leonardo for integrated sensors and electronic warfare capabilities, the European consortium MBDA for the aircraft's weapons systems, and the UKs Rolls-Royce for the aircraft's engine.
The new, "optionally manned" aircraft (according to the UK MoD) is expected to feature artificial intelligence and machine learning, and will be capable of serving as a drone "swarming"platform via a new so-called "cooperative engagement capability."  The fighter jet will be armed with direct energy weapons and hypersonic weapons, next to others.
"Early decisions around how to acquire the capability will be confirmed by the end of 2020, before final investment decisions are made by 2025. The aim is then for a next generation platform to have operational capability by 2035," the British MoD said in an official press release last month.
Japan's Acquisition, Technology, and Logistics Agency and the UK Ministry of Defense first began exploring options for jointly developing a new stealth fighter jet in 2017. The collaboration agreement stipulated that Japan and the UK will exchange information about advanced aviation technology and also conduct a joint study on the feasibility of co-developing the new fighter aircraft in the coming years, I explained in March 2017.
Japan and the UK are already cooperating on other aspects of military aviation. Both countries, in cooperation with other European partners, are co-developing a new air-to-air missile. The prototype of this Joint New Air-to-Air Missile (JNAAM) is expected to be built by the end of 2018.
The Japanese MoD issued a Request for Information (RFI) to international aircraft makers earlier this year for its F-3 fighter. So far in addition to BAE Systems, EADS, Lockheed Martin, Boeing, and Northrop Grumman have reportedly responded to the request.
U.S. aircraft maker Lockheed Martin, the purported frontrunner, has recently submitted a design proposal for a twin-engined air superiority fighter jet that combines the F-22s airframe with the F-35s electronic suite. The proposal, however, has been dismissed as too expensive by Japan's Ministry of Finance.
"A decision in what direction the (F-3) Future Fighter Program will go, is expected in the coming month as the MoD wants to include funding for the program in the next Medium Term Defense Program for fiscal year 2019 to fiscal year 2023," I explained elsewhere.
"In terms of a future fighter platform, the MoD is currently considering various options including indigenous development, joint development, derivative-development and buying off-the-self," an ATLA spokesperson was quoted as saying by Jane's in late July.
Chances that BAE Systems will prevail over Lockheed Martin or another U.S. defense contractor as Japan's principal partner in its next generation fighter jet program, however, are rather slim. For now, it remains to be seen whether the Tempest Future Fighter Aircraft project will ever move beyond the inception stage.