US Offers Japan Access to F-35 Code for New Stealth Fighter
Lockheed Martin is reportedly offering Tokyo top secret software as part of its pitch to develop Japan's next-generation stealth fighter.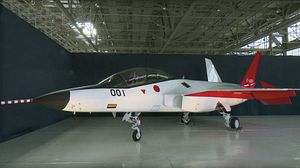 The U.S. government is willing to share at least a portion of the computer code used to operate the fifth-generation Lightning II F-35's avionics and mission systems with Tokyo as part of Lockheed Martin's pitch to co-develop a new stealth fighter with Tokyo, known as the F-3.
"The United States has proposed disclosing some of the top-secret details of its state-of-the-art F-35 stealth fighter jet to Japan to encourage joint development of an aircraft that will succeed the Air Self-Defense Force's F-2 fighter," the Japanese daily Yomiuri Shimbun reported on April 18. In detail, the U.S. has expressed its willingness to release the software installed in the F-35 to control parts including the aircraft's engine and the missiles.
The F-35's computer software, which has at least eight million lines of code, is currently exclusively held by the aircraft's developer, Lockheed Martin, and is a closely guarded secret. The U.S. defense contractor last year submitted to the Japanese government a design proposal for a twin-engined next-generation air superiority fighter jet that combines the F-22's airframe with the F-35's electronic suite.
Lockheed Martin is one of five contenders seeking to partner with Japan on its so-called Future Fighter (F-3) Program, which will officially be launched this year in line with the Mid-Term Defense Program (MTDP) and the National Defense Program Guidelines (NDPG). Japan has been looking for international partners to collaborate with Mitsubishi Heavy Industries (MHI), and other Japanese defense firms on the F-3 fighter for the past year.
The Japanese Ministry of Defense (MoD) issued a request for information to international aircraft makers in 2018 for the F-3 program. BAE Systems, EADS, Lockheed Martin, Boeing, and Northrop Grumman reportedly responded to the request.
According to the Yomiuri Shimbun, U.S. and Japanese officials have only seriously begun to discuss the Lockheed Martin proposal last month. Overall, the Japan Air Self Defense Force (JASDF) is seeking to replace its fleet of 90 F-2 multirole fighter aircraft, a Mitsubishi license-produced variant of Lockheed Martin's F-16, by the 2030s with up to 100 new fifth-generation air superiority fighters.
Should the Japanese government select Lockheed Martin's design, the United States is reportedly prepared to allow the integration of Japanese-made components into the fighter jet design including a new mission system and engine, which would be a boon to Japan's military aviation industry. However, according to 2018 media reports, Japan's Ministry of Finance has rejected the Lockheed Martin proposal as too expensive. The costs of developing and building 100 F-3 stealth fighters are estimated to exceed $ 20 billion.
As I reported last year, Japan may also seek to collaborate with the United Kingdom on the latter's Tempest Future Fighter Aircraft project, which aims to field a sixth-generation stealth fighter for the Royal Air Force (RAF) by 2035. Japan's Acquisition, Technology, and Logistics Agency (ATLA) and the UK MoD first began exploring options for jointly developing a new stealth fighter jet back in 2017.