Australia's Domestic Politics Hamstrings Its Pacific Foreign Policy
In the Pacific, climate change is an existential threat. Australia's domestic unease on the issue hinders its foreign policy.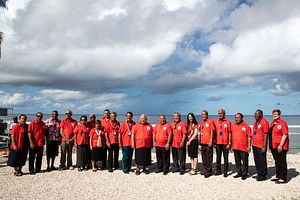 Australia's 2017 Foreign Policy White Paper indicated that the country would seek heightened engagement with its South Pacific neighbors. The increased geostrategic competition in the region has been a wake up call for Canberra, which had until recently taken its regional influence for granted. Yet Australia's ability to fully pursue its Pacific "step up" remains severely hampered by domestic politics. Its leadership instability over the past eight years has diverted the attention of its governments, and its ideological battles prevent policy consistency with the region's most pressing concerns.
This regional disconnect was highlighted during last week's Pacific Island Forum (PIF), held in Nauru. The effects of climate change is the one issue where all the Pacific Island countries have a unanimous consensus. The transnational nature of the phenomenon is keenly felt in the Pacific. These are states that emit negligible carbon emissions themselves, but are disproportionately affected by the emissions of others. This makes climate change the issue that Pacific Island countries will converge on and forcefully pursue at the region's primary multilateral institution. And this was again the case at this year's PIF.
Yet climate change remains a third rail in Australian politics, an issue that destroys domestic leaders, with a faction within the governing conservative coalition refusing to acquiesce to any attempts to reduce Australia's carbon emissions. In doing so they also prevent Australia from engaging in any regional leadership, and undermine Australia's foreign policy objectives in the Pacific.
This is very apparent to Pacific Island leaders, whose own primary foreign policy objectives now seem to be convincing recalcitrant Australian politicians that climate change is real and Australia's response to this reality is of vital importance. A week prior to PIF, Samoan Prime Minister Tuilaepa Sailele sent a signal to Australia's political leadership at an event at the Lowy Institute in Sydney, frankly stating that "any leader of any country who believes that there is no climate change, I think he ought to be taken to mental confinement. He is utterly stupid."
However, his rebuke didn't seem to have much effect. PIF's official communique included the Boe Declaration, which strongly stated that "climate change remains the single greatest threat to the livelihoods, security and wellbeing of the peoples of the Pacific and our commitment to progress the implementation of the Paris Agreement." However, it was subsequently reported that the Australian delegation attempted to water down this language. The Vanuatu foreign minister confirmed as much on Twitter. Unfortunately, this is consistent behavior from Australia, which frequently uses its weight within PIF to weaken regional responses to curb carbon emissions. That they didn't succeed this time is a testament to the resolve of the Pacific leaders, but Australia's reputation was once again damaged in the attempt.
Yet despite this declaration of intent from Pacific leaders, Australia's domestic political landscape remains incapable of forming any kind of policy that would send a reassuring signal to the Pacific. New Prime Minister Scott Morrison has stated that he will not legislate the National Energy Guarantee — designed to create structure around Australia's carbon emissions — instead indicating that Australia would seek to meet its targets under the Paris Agreement through other, non-binding policy options. In failing to pursue this legislation, Morrison has indicated that attempting to maintain the unity of a party riven with competing forces remains the primary objective of the new prime minister, just as it was for the previous one (albeit to no avail).
This presents a significant roadblock for Australia's relationships in the Pacific. The faction within the conservative coalition hostile to any action on climate change is unlikely to yield their ideological grievances to Australia's wider foreign policy goals. This will prevent Australia's regional re-engagement from gaining any real traction. Furthermore, this undermines the general foreign policy bipartisanship that has existed between the parties of government in Australia, creating a domestic policy conflict and inconsistency that has the potential to be exploited by powers such as China looking for further influence in the region.
The existential threat that Pacific Island countries are facing (particularly the most low-lying countries) is, obviously, their primary structural concern. This means that in the Pacific, Australia's climate change policy is its foreign policy. There may be other development, economic and security issues where Australia can continue to be an important and responsible partner, however, unless Canberra can recognize, acknowledge, and address this primary concern then it will fail to gain the trust and respect of Pacific Island countries it requires to maintain its regional influence.