China Launches First Domestically Built Polar Icebreaker
The Xuelong 2 launched on September 10 and is expected to be deployed next year.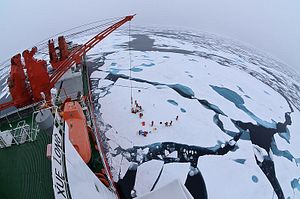 China's first domestically built conventionally-powered polar icebreaker, Xuelong 2, or Snow Dragon 2, was launched on September 10 in Shanghai. The launching ceremony took place at the Jiangnan shipyard, located on Changxing Island in Shanghai, according to local media reports.
Following the ship's launch, the Xuelong 2 will undergo a series of sea trials and is expected to be operationally deployed in the first half of 2019. Construction of the Xuelong 2 kicked off in December 2016.
The new icebreaker displaces 13,990 tons and is 122.5 meters long and 22.3 meters wide. The ship can reach a maximum speed of 15 knots, or 27.8 kilometers per hour, and is reportedly capable of breaking through ice up to 1.5 meters thick at a top speed of 3 knots on both its bow and stern.
The icebreaker will have an operational range of around 20,000 nautical miles and can accommodate a crew of 90. The operational deployment of the ship will significantly "boost China's polar research and expedition capabilities," according to a Jiangnan shipyard statement.
"It will be equipped with advanced oceanographic survey and monitoring apparatus, enabling experts to carry out research into polar ice coverage, atmospheric and environmental conditions, as well as conduct seafloor and biological resource surveys," China Daily quotes a Jiangnan shipyard press release as saying.
The Xuelong 2 and the larger 15,300-ton Ukraine-built icebreaker Xuelong constitute the only two polar icebreaking research ships currently in Chinese service.
Both polar icebreakers are civilian ships under the Polar Research Institute of China (PRIC). The PRIC is attached to the Chinese Arctic and Antarctic Administration, a subdivision of the State Oceanic Administration, which is an administrative agency reporting to the Ministry of Land and Resources.
The People's Liberation Army Navy (PLAN) currently operates three icebreakers in the Bohai Sea, as I reportedly previously:
In December 2015, the PLAN commissioned the lead vessel of a new class of icebreakers, the Type 272 Hai Bing 722, into its Northern Fleet. In March 2016, the PLAN commissioned its sister ship, the Hai Bing 723. Both military icebreakers serving in the Northern Fleet are tasked with patrolling the Bohai Sea and keeping the ports, including the nuclear submarine shipyard at Huludao, free from ice.
The PLAN's North Sea Fleet also continues to operate a third icebreaker, the Type 210, and reportedly holds one vessel in reserve.
"China is hardly an arctic power," I noted previously. "For example it only is a permanent observer in the Arctic Council… China's presence in the Arctic is nevertheless expanding along with its economic interests."
Notably, as The Diplomat reported earlier, this June a tender was published on the website of state-owned China National Nuclear Corporation (CNNC) for the construction of China's first nuclear-powered polar icebreaker.