Japan Scrambles Fighter Jets to Intercept Russian Military Aircraft
Japan scrambled fighter jets to intercept three Russian aircraft approaching Japanese airspace on September 1.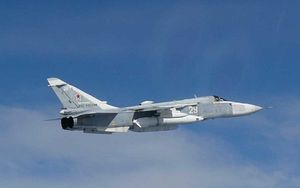 The Japan Air Self-Defense Force (JASDF) scrambled fighter jets to intercept two long-range Tupolev Tu-142MZ maritime reconnaissance and anti-submarine warfare aircraft circumnavigating the major islands — Hokkaido, Honshu, Shikoku, and Kyushu — of the Japanese archipelago, as well as one supersonic Sukhoi Su-24 nuclear-capable bomber in the Sea of Japan on September 1, the Japanese Ministry of Defense (MoD) said in a statement.
The three Russian aircraft flew over international waters for the duration of their mission and according to Japan's MoD, Japanese airspace was not violated. The Su-24, a supersonic, variable-sweep wing, twin-engine nuclear-capable attack bomber, was shadowed by Mitsubishi F-2A fighter jets while transiting the Sea of Japan, whereas the two Tu-142MZs were reportedly alternately escorted by F-2, F-4, and F-15 JASDF fighter jets.
The Russian MoD referred to the mission as a "routine flight" and in "strict accordance with international rules of using airspace, without any violations of the borders of other countries." As I reported previously, when scrambling fighter jets to intercept military aircraft approaching Japanese airspace the JASDF primarily relies on F-15s and F-2s:
The JASDF usually dispatches Mitsubishi F-15J all-weather air superiority fighters, 215 of which — including the upgraded F-15DJ/F-15J Kai variants — are currently operationally deployed with the service.

The JASDF's other workhorse for interceptor missions is the F-2 multirole fighter jet, a Mitsubishi license-produced variant of Lockheed Martin's F-16, of which there are currently around 90 officially in service.

In 2016, the JASDF has doubled the number of fighter jets dispatched for each intercept of foreign military aircraft approaching Japanese airspace from two to four.
Russia has scaled up its military presence in the skies near Japan in recent years. For example, Japan scrambled fighter jets to intercept two nuclear-capable Tupolev Tu-95MS strategic bombers and Sukhoi Su-35S (Flanker-E+)  fighter jets in July. The JASDF also dispatched fighter jets to intercept two Russian Air Force Tu-95MS strategic bombers, escorted by Su-35S fighter jets, in February.
According to the Japanese MoD, the JASDF dispatched interceptor aircraft 904 times in response to unidentified aircraft approaching Japanese airspace during the last fiscal year that ended in March. Out of the total of 904, 500 scrambles occurred in response to Chinese military aircraft and 390 were prompted by Russian military planes. This marks a decline of 41 percent for Chinese military aircraft, but a 29 percent increase of intercepts of Russian planes. Russia stopped conducting regular bomber patrols in the Indo-Pacific region in the 1990s and early 2000s and only resumed regular patrols following the deterioration of relations as a result of the Ukraine crisis in 2014.