The New Nuclear Normal in North Korea?
North Korea is beginning to lower the profile of nuclear weapons in its external signaling.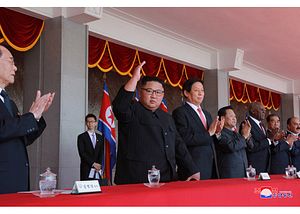 North Korean military parades are a grand affair and, in recent years, were of great interest to analysts who studied the short, medium, and intercontinental ballistic missiles on show to gauge its advances in nuclear capability.
That era appears to have come to a close. While the weekend's military parade to commemorate the 70th anniversary of the country's founding included a considerable range of military systems, it was notable for the complete exclusion of any nuclear-capable systems.
The most obvious explanation for Pyongyang's decision is that the ongoing diplomatic processes between North Korea and South Korea and North Korea and the United States would have been harmed by the blatant display of these systems.
After all, North Korean leader Kim Jong-un has twice this year put his name to documents promising to work toward the "complete denuclearization of the Korean peninsula". While that phrase doesn't entail his complete and unilateral disarmament in the short-term, parading nuclear-capable missiles might have made that commitment more than just a little hollow.
But the inclusion of several colourful floats with optimistic economic slogans at this year's foundation day parade points to another important motivation behind the display. The parade underlined Kim's decision in April to focus North Korea's efforts on revitalising the economy – and not its nuclear program.
From 2013, North Korea followed its byungjin policy, the simultaneous pursuit of a nuclear deterrent and economic prosperity. In November, after the successful test of its most powerful missile, the Hwasong-15, Kim declared the completion of the nuclear element.
In April, Kim formalised the departure from that policy line, announcing instead what he described as a "new strategic line" for the country. He did so while underlining the usefulness of the country's nuclear weapons for ensuring prosperity for "our descendants", suggesting that North Korea's new-found nuclear status would provide the cover necessary to pursue economic betterment.
The absence of nuclear-capable weapons at the parade also underlines what is likely to be a considerable shift in North Korea's overall public relations strategy around its nuclear status. In 2016 and 2017, we grew used to nearly biweekly headlines about some kind of missile test or other nuclear activity.
Back then, North Korea was taking great pains to convey to the United States that its nuclear status was progressing and, that slowly but surely, it would arrive at the finish line: a thermonuclear weapon and a large intercontinental ballistic missile to carry it to the United States. That's what Kim felt was necessary to deter and attain what Pyongyang officials have described as a "balance of power" with Washington.
The changes this year have been stark. Once a hermit, Kim now regularly meets foreign dignitaries. Once a nuclear braggart, he now maintains his nuclear weapons without showing them off. This is likely to be the new normal – at least for as long as this round of detente with South Korea and the United States persists.
An important test will be the spring U.S.-South Korea exercises Key Resolve and Foal Eagle. As U.S. Secretary of Defence James Mattis noted last month, the alliance has reached no decision yet on whether these exercises would proceed as per usual. If they do, expect North Korea to return to staging its provocations. We may yet see its ballistic missiles fly again.
Above all, the latest parade gives a signal to the United States that the ball is in its court. Kim reportedly conveyed this to Chinese President Xi Jinping's special representative at the parade, Li Zhanshu, that North Korea had abided by the terms of the June 12 Singapore summit declaration and now it was time for the United States to play its part.
Trump has already welcomed Kim's restraint as "a big and very positive statement from North Korea". Now Kim will be expecting the U.S. president to take the next step.
This article first appeared in the South China Morning Post. It is republished here with kind permission.