US Navy's Next Supercarrier 50 Percent Complete
Work on the U.S. Navy's next nuclear-powered supercarrier is progressing according to schedule.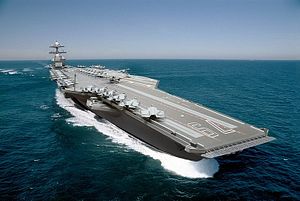 The U.S. Navy's future nuclear-powered aircraft carrier John F. Kennedy (CVN-79), the second ship of the service's new 100,000-ton Gerald R. Ford-class of supercarriers, is now 50 percent complete following the installation of one of the largest units on the ship, according to the Newport News Naval Shipbuilding division of Huntington Ingalls.
"Weighing approximately 905 metric tons, the unit is one of the heaviest of the planned steel structures, known as superlifts, that will be joined together to make up the second ship in the Gerald R. Ford class," the company said. The superlift of the aft section of the John. F. Kennedy between the hangar bay and flight deck is 80 feet long, about 110 feet wide and four decks in height, according to the shipbuilder.
"This was a game changer for us," said Lucas Hicks, Newport News' vice president, CVN 79 program. "Performing higher levels of pre-outfitting represents a significant improvement in aircraft carrier construction, allowing us to build larger structures than ever before and providing greater cost savings." The shipbuilding company expects to launch the ship three months ahead of schedule. The ship is scheduled to move from the dry dock to an outfitting berth in the fourth quarter of 2019.
The future USS John F. Kennedy was laid down in August 2015. The ship was originally planned to be completed by the end of 2018, which then U.S. Secretary of Defense Robert Gates pushed to 2020 in order to place the carrier's construction on a "more fiscally sustainable path." The entire Ford carrier program has been plagued by delays and cost overruns, as I stated elsewhere:
 Controlling the cost of the Ford-class program has been a big challenge for the U.S. Navy, with cost overruns around $2.3. billions so far. The first-of-class USS Gerald R. Ford (CVN-78), commissioned in July 2017, is already the U.S. Navy's most expensive warship in its history, with total cost amounting to almost $13 billion. The per-unit cost of the remaining ships of the class is estimated at around $10 billion. 
Notably, as a result of multiyear delays and the expedite the deployment of the first-of-class Gerald R. Ford, the U.S. Navy considered cancelling shock trials, a move that was calculated to move up the combat deployment of the aircraft carrier by a year from 2022 to 2021. The lead ship of the class was commissioned in July 2017. The U.S. Navy wants to field a fleet of 12 Ford-class supercarriers, up from the 11 Nimitz-class currently in service, by the end of the 2030s.
The service plans to operate the Ford-class for the next eighty-seven years until 2105.