US Navy Signs $14.9 Billion Contract With Shipbuilder for 2 Supercarriers
Huntingon Ingalls will construct two additional Gerald R. Ford-class aircraft carriers.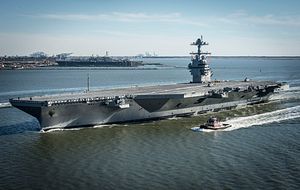 The U.S. Navy has signed a $14.9 billion contract with U.S. ship maker Huntington Ingalls Industries – Newport News Shipbuilding (HII-NNS) for two nuclear-powered Gerald R. Ford-class aircraft carriers, the service announced in a statement on January 31. By buying two carriers simultaneously under one contract, the Navy expects to save over $4 billion. U.S. Congress approved the block procurement in the 2019 National Defense Authorization Act already; however, at that time HII-NNS had yet to meet the service's cost-cutting requirements.
"Focusing on optimizing construction activities and material procurement, the team was able to achieve significant savings as compared to individual procurement contracts," Secretary of the Navy Richard V. Spencer said last week. "One contract for construction of the two ships will enable the shipbuilder flexibility to best employ its skilled workforce to design once and build twice for unprecedented labor reductions while providing stability and opportunities for further efficiencies within the nuclear industrial base."
According to the U.S. Navy, the January 2019 contract includes ship integration costs of several modifications including the F-35C Lightning II, the carrier variant of the F-35 Joint Strike Fighter, the Mk 38 gun system, and MQ-25 Stingray Unmanned Aircraft System, which reportedly represent an additional $100 million in savings. "Plus, these new savings associated with new capabilities increases to $200 million if installed in the ship before delivery, in comparison to installing after ship delivery," the January 31 statement reads.
The entire Ford carrier program has been plagued by delays and cost overruns. The first-of-class USS Gerald R. Ford (CVN-78), commissioned in July 2017, is the most expensive warship in U.S. Navy history, with total procurement cost amounting to around $13 billion.  As I explained last year:
As a consequence of the multiyear delays and to expedite the deployment of the first-of-class Gerald R. Ford, the U.S. Navy considered cancelling shock trials in 2017, a move that was calculated to move up the combat deployment of the USS Gerald R. Ford by a year from 2022 to 2021. For the time being, the USS Gerald R. Ford is scheduled for its first operational deployment in 2022.

The Ford's follow-on, the future USS John F. Kennedy (CVN-79), will likely be commissioned in 2020. The third ship of the class, USS Enterprise (CVN-80), is expected to join the fleet by 2027. The fourth, as yet unnamed, Ford-class carrier (CVN-81) is slated to join the U.S. Navy by 2029 or 2030. The service intends to deploy a total of 12 Ford-class aircraft carriers, up from the 11 carriers in service today.
The U.S. Navy plans to operate the Gerald R. Ford class for the next 87 years until 2105.