Australia-Indonesia Ties: The Problem of Unnecessary Irritants
The recent controversy about a potential Israel embassy move is exactly the kind of thing the relationship does not need.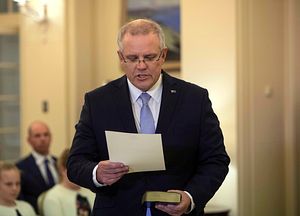 The relationship between Australia and Indonesia is often contentious, and a mix of factors, including different diplomatic agendas, religious issues, and general perceptions of suspicion and distrust, have often tested ties. The latest spat over the proposition that Canberra shifts its Israeli embassy to Jerusalem is no different.
The idea of moving embassies to Jerusalem is a controversial matter that stirs up passions with respect to the broader Israel-Palestine issue, and exposes tensions between some Western states and other Muslim-majority nations. A case in point was when U.S. President Donald Trump who set the contemporary agenda on the issue outraged Muslim countries by shifting the American embassy to the coveted city in May.
But that outrage did not stop Australian Prime Minister Scott Morrison from suggesting earlier this month that Australia also move its embassy from Tel Aviv to Jerusalem. Morrison has insisted since his announcement that in spite of any fallout from Muslim-majority countries, Australia should be able to make its own sovereign decisions in terms of its own interests.
Few would contest that notion, but there are questions about Morrison's motives in this respect. The initial announcement came right before a by-election in Australia at a time when Morrison had just taken power following the ouster of former Prime Minister Malcolm Turnbull, a point that did not go unnoticed in Indonesia.
Even if Morrison was motivated by the pure notion of Australia's interests, the real question is how the move on balance advances Australia's interests rather than harms them. On that score, it seems rather dubious to suggest that any marginal gains Canberra would get from being closer to an already close ally in the United States and Trump would outweigh the extremely negative consequences that would come out of alienating Muslim-majority countries in the neighborhood and around the world, particularly Indonesia and Malaysia.
It is also true that there are things at play in Australia's own interests with Indonesia. Indonesia is itself an important country for Canberra to cultivate, being one of the most populous countries in the world with an important role to play on issues ranging from terrorism to climate change. That is even more so when strategic conceptions like the Indo-Pacific are being advanced.
"This is after all the largest … majority-Muslim country in the world, so we have to be very clear-eyed about that and we have to take into account Australia's national interest and our interests in the region when we … consider decisions like this," Turnbull rightly warned on radio. The former prime minister has been playing a role of trying to ease some of the fallout from the decision including by engaging in direct engagement with Indonesia.
There are also important future considerations as well that are more concrete. For instance, at stake in Australia could be a free trade agreement worth more than $11.4 billion that took more than a decade to negotiate with Australian beef, wheat, and other rural producers destined to be the primary winners. It is due to be signed this year.
While Indonesia has made its position clear to Australia privately as well as publicly, Jakarta has denied reports that it has considered specific measures, such as putting a trade pact on hold. But whether such moves are taken or not is besides the point. The Israel embassy move is exactly the kind of irritant that the bilateral relationship does not need – one that exposes differences, damages ties, and has questionable benefits for the party initiating it.
Luke Hunt can be followed on Twitter @lukeanthonyhunt