India to Procure 1,000 Engines for T-72 Main Battle Tank Force
The Indian Ministry of Defense has approved the procurement of 1,000 new engines for the Indian Army's T-72 main battle tank force.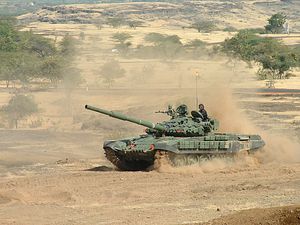 India's Ministry of Defense (MoD) has approved the procurement of 1,000 new engines for the Indian Army's T-72M1 Ajeya main battle tank (MBT) force, according to a September 26 statement.
The Defense Acquisition Council, the MoD's principal procurement body, headed by the defense minister, has "accorded approval for procurement of 1000 engines of 1000 BHP for fitment in T-72 tanks of the Army under 'Buy & Make' category and at an approximate cost of over Rs 2300 crore [$313 million]," the MoD press statement notes.
The majority of engines will be produced locally by the Engine Factory Avadi (EFA), a subdivision of the Ordnance Factories Board. "The engines will enhance mobility, agility, and acceleration of T-72 tanks making them more versatile and effective in the battlefield," the MoD adds.
The MoD did not specify the engine type to be procured, although it has apparently abandoned plans to upgrade its T-72 force with Polish-made engines. EFA is currently producing two separate homemade engines. The indigenously-produced high-power multifuel engine V-46-6, based on Russian design, has a 780 hp capacity, whereas EFA's second locally-made high-power multifuel engine, the V92S2, boasts 1,000 hp and has been specifically designed for the T-90 MBT.
The bulk of the Indian Army's MBT force consists of 1,800+ T-72M1 Ajeyas imported during 1982 to 1986. Around 1,500 T-72 Ajeyas are in the process of being upgraded with new engines, new fire control systems, reactive armor, fire detection and suppression systems, as well as new communication and navigation systems under the Combat Improved Ajeya program, code-named Project Rhino. Although the first phase of the program already kicked off in the 1980s,  is unclear how many MBTs have been upgraded to date as it has been seriously delayed by budget shortfalls. According to one estimate, around 70 percent of Indian T-72s are currently not ready for combat.
In addition to the T-72M1, the Indian Army operates two variants of the third-generation Russian T-90 MBT — the T-90S Bhishma and T-90SM (other designations T-90AM or T-90MS). While some sources say that India is operating over 1,200 license-built T-90S Bhishma and T-90M MBTs, it unclear how many have, in fact, been delivered, and are operational. One estimate puts the number of license-built T-90S Bhishma tanks at 850-900, while the total number of T-90S and T-90SM is estimated at somewhere from 800 to 1,200 MBTs. The Indian Army is currently in the process of procuring an additional 464 T-90SM MBTs.
The Indian Army is also operating the Arjun MK-I tank, an indigenously developed MBT based on the German Leopard II MBT design, of which 124 have been delivered to the service to date. Notably, over 75 percent of Arjun MK-I MBTs remain grounded due to various technical problems and as a result of missing spare parts. To close its MBT capability gap, India's MoD issued a global request for information (RFI) in November 2017 to develop and build 1,770 armored fighting vehicles, principally to replace the Indian Army's T-72 MBTs in the next decade. A request for proposal (RFP), the next stage in the procurement process, however, has not been issued to date.