Koreas Begin Land Mine Removal at Joint Security Area, Per Recent Military Agreement
The two sides have started implementing a recent military tension reduction agreement.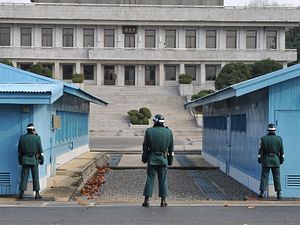 On Sunday, soldiers from both South and North Korea began removing landmines planted along part of the heavily fortified Demilitarized Zone (DMZ) pursuant to a recent military-military agreement. The mine removal will focus on the Joint Security Area in Panmunjom and will take place over the next 20 days.
At a recent summit in Pyongyang, the defense ministers of both countries concluded a major agreement on reducing military tensions that included provisions for the removal of land mines. The agreement sought to end "all hostile acts," in line with the joint declaration between South Korean President Moon Jae-in and North Korean leader Kim Jong Un, and reduce the possibility of war on the Korean Peninsula.
Per annex two of the recent military-to-military agreement, both Koreas, in coordination with the United Nations Command, will "implement measures to demilitarize" the Joint Security Area. The removal of land mines starting October 1 was the first measure.
Subsequently, all sides will withdraw "guard posts, personnel, and firearms." That is set to occur five days after the competition of the mine removal in the Joint Security Area, according to the agreement. The agreement also commits all sides to remove "unnecessary surveillance equipment" from the Joint Security Area and enter consultations before deploy any new surveillance equipment.
"Regarding the landmine removal work as the starting point, the military authorities of the two Koreas will make joint efforts to ensure that their military agreement will be carried out systematically and normally," the South Korean Ministry of Defense said in a press release.
After the measures are implemented to demilitarize the Joint Security Area, the UNC, South Korea, and North Korea will "jointly verify" implementation, per the inter-Korean agreement. The UNC is led by the same four star U.S. General who heads the U.S.-South Korea Combined Forces Command. This is currently General Vincent K. Brooks, who will soon step down to be replaced by General Robert Abrams.
The Panmunjom Joint Security Area is a special area carved out along the Military Demarcation Line that separates the two Koreas. Troops from both Koreas and United Nations Command troops staff the area.
Until 1976, troops from both sides were able to move within the entire area. That ended in the aftermath of an infamous incident that year, when North Korean soldiers killed two U.S. soldiers with axes, leading to a major bilateral crisis. After that incident, troops were restricted to either side of the Demarcation Line.