Radicalization in Central Asia: 'Not In Our Name'
A new documentary project filmed in Central Asia seeks both to document and counter violent extremism in the region.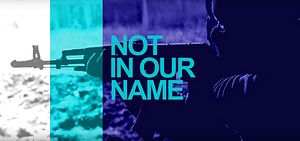 A lack of empathy and accurate vocabulary to describe the forces driving radicalization threatens to undermine efforts at understanding the roots of violent extremism in Central Asia, according to the producers of Radio Free Europe/Radio Liberty's new documentary, "Not In Our Name."
Audiences in Washington D.C., Boston, and New York had a chance to see a special English-language version of the documentary in mid-October. After each screening, audiences engaged with a team of producers in a discussion of the film and prospects for stopping the flow of Central Asians going to Syria and Iraq.
"Not In Our Name" is unique in that it is both a project documenting violent extremism while also intending to counter terrorist mobilization in Central Asia. "We wanted to be able to understand the problem in a different way," Executive Editor Noah Tucker told the audience at an event organized by Columbia University's Harriman Institute. "That's why we recruited not just journalists and producers, but academic experts who specialize in these things and understand the local context really well."
The production team covers an impressive range of professional and regional diversity. Asel Murzakulova and Serik Beisembayev joined Noah Tucker for the screening in New York. Both Murzakulova and Beisembayev are sociologists by training; Murzakulova worked as the deputy editor and producer for "Not In Our Name," while Beisembayev was the lead moderator of the project's focus groups.
Local producers brought an additional level of insight and perspective, including Lola Olimova, the Central Asia editor for the Institute of War and Peace Reporting, Orzu Karim Bedigemov, a correspondent for RFE/RL's Tajik service, Zhuldyz Tuleova, who works for RFE/RL's Kazakhstan service as an editor, and Ikbolzhon Isakov, an independent consultant working on media projects in the Ferghana Valley. Joanna Levinson, Susan Jackson, and Mohammad Tahir make up the rest of the production and marketing team.
While the film shown to East Coast audiences featured English subtitles, the bulk of the documentary — broken down into ten 20-minute videos — is conducted in regional languages. In addition to being broadcast on TV in Kyrgyzstan, "Not In Our Name" can be streamed through the various RFE/RL Central Asian services.
"Not In Our Name" aims to reframe the academic and social debate about the causes and consequences of Islamic State (ISIS) recruitment in Central Asia.
One of the project's significant discoveries was that mobilization to Syria is not evenly distributed within Central Asian countries. "Governments and society like to think about this as if people just sort of go crazy, and that this happens evenly across the country," said Tucker. Contrary to this explanation, researchers identified a "hot zone" in each country where people were disproportionately more likely to be mobilized. For example, 80 percent of ISIS recruits from Kyrgyzstan were found to be from Kyrgyzstan's Osh region.
What exactly makes these regions vulnerable to recruitment remains unclear, but the "Not In Our Name" team emphasized that the evidence does not support many typical assumptions about the causes of mobilization. "These are not the poorest regions in any of these countries, and they are not historically the most religious or places that people associate with foreign missionary activity," Tucker said.
Each documentary segment centers on a focus group, with town halls organized in each country's hot zone and urban center. The final town hall brought together participants from all six field sites for a cross-country perspective on the factors driving recruitment in the region.
"It was very hard to moderate discussion sometimes," reflected Serik Beisembayev, who served as the lead moderator of the focus groups. "I couldn't understand the participants' answers entirely. I thought, is it their real opinion? Or did they just reproduce what they heard on TV?" Despite the challenge of getting participants to open up in an honest way, Beisembayev appreciated Central Asians' strong appetite for debate.
Open conversations about radicalization are perceived as taboo in Central Asia, which makes the work of organizing focus groups and producing a documentary like this a subversive but productive act. Deputy Editor Asel Murzakulova noted the challenge of insufficient vocabulary for talking about these issues in the region. "We have a lack of analytical language which can describe the complexity of this issue," she said. Murzakulova described how academic conversations focus only on macro-level factors, like literacy levels and poverty, but ignore the human factor.
Without recognizing the deep roots that push people toward violent extremism, it will be all but impossible to fully understand and prevent the spread of radicalization in Central Asia. "Not In Our Name" lays crucial groundwork for progress in that realm.