A Look Back at 2021 in Central Asia
How did I do on my outlook for Central Asia 2021?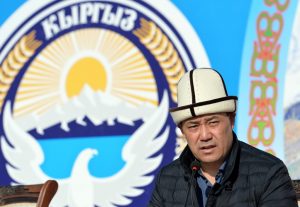 Soon The Diplomat will publish the 86th issue of our monthly magazine (which I manage and you can subscribe to here). As is tradition, the cover story will feature a full cast of Diplomat authors and editors  looking at the year ahead: 2022. In the upcoming issue, as in the 2021 edition, I've written both the Central Asia and Afghanistan sections.
Since the first outlook issue in January 2015, we've stressed that it is not an exercise in prediction. As I've written previously: "It's not prognostication; we don't pretend to be able to predict the future. It is, however, an exercise in attention and expectation."
In what has become another tradition I'll check in on my own assessment. You'll have to read the January 2022 issue to see what I'm thinking about the new year ahead.
As 2021 approached, my attention was drawn to the calendar: Kazakhstan and Kyrgyzstan had early elections in 2021 (parliamentary and presidential, respectively) and Uzbekistan was headed to a presidential election by the end of the year. 
In my outlook piece, I suggested that the votes in Kazakhstan and Kyrgyzstan would have long consequences. My expectation that Nur Otan's majority in Kazakh legislature would grow was off the mark: Nur Otan's percent of the total vote dropped and it lost eight seats, although still maintains an overwhelming majority with 76 out of 98 seats. In Kyrgyzstan, however, Sadyr Japarov was successful in gaining approval for his referendum(s) on Kyrgyzstan's government system and winning election himself. I noted in my outlook the potential for disruptive protests in both countries, and for the most part, those did not materialize.
As for Uzbekistan, I noted that as President Shavkat Mirziyoyev's first five-year term approached its end, his sharpest critics would be watching the election closely. "Mirziyoyev's presidency has been marked by a reform program that is surprisingly robust when it comes to economic matters and international relations, but relatively meek when it comes to political reforms," I wrote, characterizing the presidential election as the hardest reform test. The Uzbek government moved the election up to October early in the year. I concluded with this: "The question for 2021 is not so much whether Mirziyoyev will win re-election (incumbents always have a heavy advantage, even in democracies), but whether he can do so in a fair fight. Can Mirziyoyev tolerate a real challenge, or is that a bridge too far for his reform program?" This turned out to be the right question, with the answer being a resolute "no." No new parties were allowed to register, no independent candidates were allowed to run, and Mirziyoyev secured a clear victory with 80.31 percent of the vote.
My final "thing to watch" for in Central Asia in 2021 was less tied to the political calendar: I was curious how Central Asia's autocratic leaders would continue to silence opposition and repress dissent. In 2020, the COVID-19 pandemic became a convenient excuse for dispersing protests and taking down online posts. But "the necessity for autocratic governments to dissuade free speech will remain and new reasons will be found," I wrote.
"New" was perhaps a poor word choice, but 2021 didn't see a sea change when it came to free speech in Central Asia. Looking at Uzbekistan, in particular, there was a stalling on progress toward a more open media environment. Uzbekistan refused to renew the accreditation of a foreign journalist, Agnieszka Pikulicka-Wilczewska, early in the year and later barred her from re-entering the country. For still unknown reasons, the government is bizarrely refusing to export her personal belongings. Uzbekistan also detained or jailed several domestic journalists and bloggers in 2021, some of which were known for pursuing corruption-related stories or socially-progressive causes, such as LGBTQ rights.
One oversight on my part in the Central Asia outlook was Afghanistan. As 2021 began, the United States' plans for exiting Afghanistan were unclear. The newly-elected Joe Biden wanted to withdraw U.S. forces, but when I was writing in December 2020, it wasn't known whether he'd stick to Trump's May 2021 exit deadline or extend it (and if so, by how much). I covered this uncertainty in the Afghanistan section of the January 2021 cover story, but this obviously had repercussions for Central Asia too and merited a mention.
There was another big story that I did not necessarily foresee: The outbreak of the violent on Kyrgyz-Tajik border. The potential for violence has simmered (and occasionally bubbled over) for much of the last 30 years along the Kyrgyz-Tajik border. It's like predicting an earthquake, however; you know the ground in potentially unstable but you can't quite say when the shaking will begin.
Check out the January 2022 issue of The Diplomat Magazine (publishing soon!) for my thoughts on 2022.