US Announces Suspension of Vigilant Ace 2018 Exercise With South Korea
The suspension comes in anticipation of a second U.S.-North Korea summit meeting.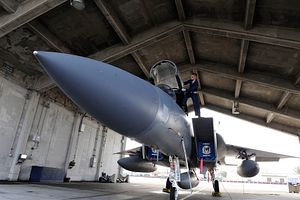 The United States and South Korea have decided to suspend the upcoming scheduled Vigilant Ace 2018 allied joint exercise.
South Korean Defense Minister Jeong Kyeong-doo and U.S. Defense Secretary Jim Mattis jointly approved the decision, which was announced by the U.S. Department of Defense on Friday.
The justification for the cancellation of the exercise, which involves U.S. aerial assets based in South Korea and Japan as well as the Republic of Korea Air Force, was "to give the diplomatic process every opportunity to continue," according to a statement released by Pentagon spokesperson Dana White.
The United States and North Korea are anticipating a second leaders-level summit meeting. North Korea has long criticized major U.S.-South Korea exercises as provocative.
Vigilant Ace 2018 marks the sixth allied exercise cancellation this year since the June 12 summit meeting in Singapore between U.S. President Donald J. Trump and North Korean leader Kim Jong Un.
At the conclusion of the summit, Trump announced that the United States had decided to suspend the August 2018 Freedom Guardian exercise, which comes alongside South Korea's own Ulchi 2018 exercise. Trump called the exercise "provocative."
Also after the Singapore summit, South Korea cancelled its own internal Taeguk 2018 exercise, which were originally scheduled for late June.
Separately, the alliance announced in the weeks after the Singapore summit that it would suspend two lower profile marine exchange program exercises. On Friday, the South Korean Marine Corps said that the Korean Marine Exchange Program (KMEP) drills would take place 24 times next year.
Vigilant Ace 2017, the most recent iteration of the exercise, involved more than 230 military aircraft and 12,000 personnel. The latest cancellation coincides with a change of command at U.S. Forces Korea, with General Vincent K. Brooks' upcoming departure. Brooks will be replaced by General Robert B. Abrams.
The cancellation of Vigilant Ace so far in advance suggests that the United States is not expecting to conclude the next summit with Kim until December at the earliest. Trump has said the summit would not go ahead prior to the U.S. mid-term elections on November 6.
The upcoming summit will give Kim an opportunity to request that the United States and South Korea suspend the 2019 iteration of the Key Resolve/Foal Eagle exercises, the flagship allied springtime exercises that North Korea regularly describes as a ruse by the alliance to stage an invasion of its territory.
Last year, North Korea launched four ballistic missiles toward the start of those exercises.