Australia, US Test Jointly Test Cooperative Engagement Capability
The Royal Australian and U.S. navies for the first time have jointly tested a new wide-area air defense system this month.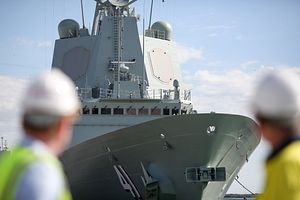 The Royal Australian Navy (RAN) and U.S. Navy for the first time have jointly conducted a test of the so-called cooperative engagement capability (CEC) real-time sensor netting system off the coast of Hawaii, Australian Defense Minister Christopher Pyne announced in a 5 November statement.
The CEC, part of a wide-area air defense system, allows the real-time sharing of sensor data on air targets, including incoming enemy aircraft and cruise missiles, among CEC-equipped warships. The test involved RAN's first-of-class air warfare destroyer HMAS Hobart and the U.S. Navy Arleigh Burke-class destroyer USS John Finn. The two vessels established secure data links and shared tracking and fire control data across the two ships.
CEC interfaces with the Aegis combat system enhancing its early detection capabilities.  "These trials are the culmination of 12 months of preparations and demonstrate Hobart's formidable capability," Australian Defense Minister Christopher Pyne was quoted as saying. "Australia is the first country outside the United States with Cooperative Engagement Capability, and so this demonstration marked the first time this Capability was proven between two navies."
CEC was successfully tested for the first time by the HMAS Hobart and its sister ship HMAS Brisbane, commissioned in October, earlier this year.
"Connecting and sharing data with the US Navy like this is an important step in increasing our interoperability with them, especially during linked task group operations at sea," the commanding officer of the Hobart, Captain John Stavridis, said. "Sharing information like this between ships at sea means that ships in a task group can know and respond to what is going on, including sharing tracking and targeting data."
"It means that a ship can detect and, if needed, engage a threat identified by another ship or aircraft, creating greater flexibility and better protection for all the ships involved".
The Hobart-class is the first class of Australian surface combatants to be built around the Aegis combat system. The Navy will commission a total of three Hobart-class destroyers, based on the Navantia-designed Álvaro de Bazán-class frigate (aka F-100), by 2020.
The air warfare destroyers of the class are all equipped with a 48-cell MK 41 Vertical Launching System, capable of firing Raytheon's Standard Missile-2 medium-range Block IIIA (SM-2MR Block IIIA) and SM-2MR Block IIIB long-range surface-to-air missiles, as well as the RIM-162 Evolved Sea Sparrow Missile.
It is unclear whether the HMAS Hobart participated in some capacity in a recent ballistic missile defense test involving USS John Finn off the Hawaiian coast on October 26. The ship successfully intercepted an incoming ballistic missile target with a Standard Missile-3 (SM-3) Block IIA missile.