US Navy Successfully Shoots Down Medium-Range Ballistic Missile Target in Test
The U.S. Missile Defense Agency successfully conducted a SM-3 Block IIA intercept test after two previous failed tests.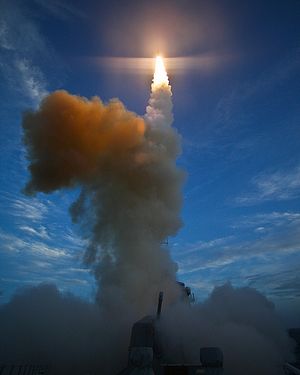 The U.S. Missile Defense Agency (MDA) and U.S. Navy successfully conducted an intercept of a medium-range ballistic missile target with a Standard Missile-3 (SM-3) Block IIA missile on October 26, according to a MDA statement.
The test involved the shooting down of a mock ballistic missile target outside the earth's atmosphere, fired from the Pacific Missile Range Facility, at Barking Sands, Kauai, Hawaii, with a SM-3 Block IIA missile launched from the Arleigh Burke-class guided missile destroyer USS John Finn (DDG-113).
"Based on observations and initial data review, the test met its objectives," the MDA said in an October 26 statement. "Program officials will continue to evaluate system performance."
"This was a superb accomplishment and key milestone for the SM-3 Block IIA return to flight," said MDA Director Lieutenant General Sam Greaves. "My congratulations to the entire team, including our sailors, industry partners, and allies who helped achieve this milestone."
The SM-3 Block IIA missile is the most advanced variant of the SM-3 "hit-to-kill" interceptor series and operates as part of the Aegis ballistic missile defense system. The SM-3 Block IIA has been under joint development by U.S. defense contractor Raytheon and Japan's Mitsubishi Heavy Industries (MHI) since 2006.
Whereas Raytheon is responsible for the SM-3 Block IIA's hardware, system development, and all-up-round integration, MHI oversees the development of the interceptor missile's second- and third-stage rocket motors, steering control, and the missile nosecone.
The United States and Japan last successfully tested the Aegis Baseline 9/5.1 BMD combat system with a SM-3 Block IIA missile in February 2017. Two other tests of the missile in June 2017 and January 2018 failed.
The SM-3 Block IIA is designed to destroy short- to intermediate-range ballistic missiles. Possessing a much greater horizontal and vertical range than its predecessors, the SM-3 Block IA and SM-3 Block IB, the SM-3 IIA missile is thought to have a maximum operational range of 2,500 km (1,350 miles). It also carries a much more advanced kill vehicle than previous SM interceptor variants.
The missile can be deployed on Aegis-equipped guided missile destroyers or on land, via Aegis Ashore sites.
In January, the U.S. State Department approved a potential sale of SM-3 Block IIA missiles to Japan for an estimated cost of $133.3 million. The first SM-3 Block IIA missiles are slated for operational deployment by the end of 2018.
Last month, the Japan Maritime Self-Defense Force (JMSDF) and MDA, in cooperation with the U.S. Navy, also conducted a successful test of the Aegis Baseline 9/BMD 5.0 combat system that involved the test firing of a SM-3 Block IB interceptor missile launched from a Japanese guided-missile destroyer.