Central Asia Gassing Up China
Kazakhstan looks to increase its natural gas exports to China, and Turkmenistan may be gaining an old customer back.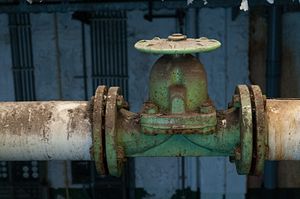 Last month, KazTransGaz, Kazakhstan's national gas company, and PetroChina International signed a five-year contract that aims to see Kazakh natural gas exports to China double to 10 billion cubic meters (bcm) per year starting in 2019. The five-year contract built on a one-year deal that expired on October 14, which sought to export 5 bcm to China.
With China projected to soon become the world's top importer of gas, Kazakhstan sees an opportunity to cash in coming to fruition in tandem with its production ability to provide supply growing.
As the Nikkei Asian Review noted last month, "When the construction of the Central Asia-China gas pipeline started in 2009, Kazakhstan's main priority was to supply its own gas produced in the west to populous southern regions, which depended on Uzbek imports." The pipeline, which connects to China in eastern Kazakhstan, also positioned the country as the region's hub for gas exports to China.
Kayrat Sharipbayev, chairman of the board of directors of KazTransGas, was quoted by Nikkei saying, "We are fully meeting the domestic demand for gas [in Kazakhstan's south] and are simultaneously able to increase gas exports to foreign markets." Kazakhstan has worked to expand its internal gas pipeline infrastructure, namely the addition of three high-tech compressor stations on the Beyneu-Bozoy-Shymkent gas pipeline which runs 1,454 km from western to southern Kazakhstan where it links up with the Central Asia-China gas pipeline carrying Turkmen and Uzbek gas.
One outstanding question is how much additional gas the existing pipeline network has the capacity to carry. The existing infrastructure is said to be capable of carrying 55 Bcm.
It remains to be seen how close to that top number Central Asia is currently supplying. Nikkei in October cited KazTransGas figures as noting that the volume of gas sent through the Central Asia-China pipeline increased to 38.7 bcm in 2017, a 13 percent rise over the previous year's volume.
A Radio Free Asia article in June 2018 noted that officials in Kazakhstan were saying that deliveries were expected to rise "nearly a third from the 38.7 billion cubic meters." The planned volume of 51.37 bcm "would be perilously close to the [Central Asia-China gas pipeline's] rated capacity of 55 bcm per year, suggesting that the system will 'max out' in early 2019."
According to the BP Statistical Review of World Energy 2018, China imported 36.2 bcm of gas via pipeline from Central Asia in 2017. Most of that gas, the report's statistic show, came from Turkmenistan (31.7 bcm), followed by Uzbekistan (3.4 bcm), and then Kazakhstan (1.1 bcm).
In the previous year, according to BP, China imported an estimated 34.1 bcm of gas from Central Asia via pipeline: 29.4 bcm from Turkmenistan, 4.3 bcm from Uzbekistan and just .4 bcm from Kazakhstan.
While growth is the overall trajectory for gas exports to China from Central Asia, a jump to hitting the ceiling of 55 bcm would be an immense increase. We'll get a better picture next summer when BP puts out the data on 2018 on how soon Central Asia will hit its present pipeline limits.
Kazakhstan, even if it manages to increase its gas exports to China to 10 bcm per year in 2019, will still lag behind Turkmenistan. Ashgabat is Beijing's top gas supplier, followed by Australia, which in 2017 exported 23.7 bcm in liquified natural gas to China. But while Turkmenistan's volume headed to China increased from 2016 to 2017, its production numbers fell from 57.6 to 53.3 in million tonnes oil equivalent. Domestic consumption was also down in Turkmenistan, per the BP report, another note for those eyeing Ashgabat for signs of economic difficulty and related instability.
Turkmenistan may have a new customer in 2019: Russia. In 2015, Russia, which had been Turkmenistan's top customer, announced that its imports of Turkmen gas would decline from 11 bcm to just 4 bcm. At the start of 2016, Russia stopped buying Turkmen gas entirely. In October, Gazprom's CEO Aleksei Miller said "We are talking about the resumption of purchases of Turkmen gas by Gazprom in the very near future — from January 1, 2019." The announcement hit headlines, but the details are still being worked out.
Turkmenistan has several ambitious pipeline projects in progress (some of that progress is merely rhetorical, of course). For Kazakhstan, however, the outlook is decent: China remains a demanding customer and Kazakhstan's production looks liable to keep up with both growing domestic consumption and capacity to export.
Also worth paying attention to: Russia's deal with China to export natural gas via the Power of Siberia pipeline. Costs have ballooned, but the two sides still expect gas to begin flowing by the end of 2019 and eye a target of 38 bcm by 2024.