In Brunei, China Woos Rival South China Sea Claimant
Economic help is far more important to Brunei than the maritime disputes. That's music to China's ears.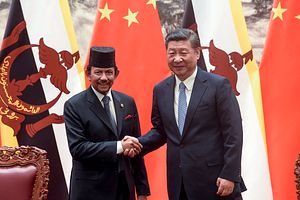 Chinese President Xi Jinping's ongoing Asia tour had him in Brunei from November 18, immediately after leaving the APEC summit in Papua New Guinea, to November 20, when he departed for the Philippines. It was Xi's first visit to Brunei – and the first state visit by any Chinese president in 13 years.
According to Xi's host, Sultan Hassanal Bolkiah, Xi's visit was "a significant one in expanding and strengthening the historical ties underpinned by strong friendship, trust and goodwill towards one another." As one of the outcomes, China and Brunei agreed to upgrade their relationship to a strategic cooperative partnership. They also agreed to establish a joint steering committee between their two governments to allow for regular ministerial-level dialogues.
The current phase of the Brunei-China relationship is largely based on economic cooperation. During Xi's visit, Brunei pledged to continue its support for China's Belt and Road Initiative (BRI) and China promised to assist the sultanate in its drive to diversify its economy away from a dependence on oil and gas – an ever-more-urgent need, as Brunei's energy resources are expected to be tapped out in the next 20 years. More immediately, low oil prices have helped throw Brunei into a recession and the country is hoping Chinese investment can help turn the tide.
Brunei sees an opportunity to use China's BRI to bolster its own Vision 2035, an ambition plan to create a more diversified, sustainable economy. Beijing has obliged, as least in rhetoric. In their joint statement, "China reaffirmed its strong support for Brunei Darussalam's national development goals, and expressed best wishes for the successful realization of the Wawasan [Vision] 2035."
With the Sultan and his government eager to expand cooperation, bilateral trade has soared since 2016, reaching over $1.3 billion as of September 2018. That represents nearly 90 percent growth over 2017, after notching 36.5 percent year-on-year growth from 2016 to 2017.
Xi's visit this time didn't see any major new projects announced, although the two sides did ink a new memorandum of understanding (MoU) on BRI cooperation. Instead, there were more generic promises to strength cooperation on trade and investment, agriculture, and aquaculture, as well as repeated commitments to previous projects. The two most notable areas of cooperation already in the works are the Hengyi Industries Sdn Bhd refinery and petrochemical plant, and the Brunei-Guangxi Economic Corridor.
The Hengyi project was announced in March 2017; construction is expected to be completed this year, with operations starting in 2019. Hengyi Industries Sdn Bhd is jointly owned by China's Zhejiang Hengyi company and a Bruneian partner according to a 70-30 split in China's favor. Located on Pulau Muara Besar, the $3.4 billion project centers on an oil refinery expected to produce gasoline, diesel, and jet fuel, sources told Reuters. There are plans for a Phase II as well, which would bring the total investment to over $15 billion, according to Hengyi Industries Sdn Bhd's chief executive officer. According to the company, the plant "will ensure Brunei's self-sufficiency in refined products."
The Brunei-Guangxi Economic Corridor, as the name implies, is a broader framework that covers multiple projects. The original agreement, signed in September 2014, called for "over $500 million worth of joint investments." Projects currently underway include redeveloping Brunei's Muara Port as well as constructing an agricultural park and a medical park. Zhou Yan, the former head of the program, told Chinese media that "helping Brunei modernize its only deep-water port… is only the first step. The next is to diversity the nation's industries and reduce its dependence on oil revenues."
All this economic cooperation comes against the backdrop of the South China Sea disputes, in which both China and Brunei are claimants. As the smallest of the claimant states, Brunei has been low-key about advancing its claims. China sees an opportunity to use this relationship as a blueprint for "properly" managing the disputes.
The joint statement issued during Xi's visit "welcomed the improving cooperation between China and ASEAN Member States in the South China Sea" and "encouraged further progress" in the ongoing negotiations over a Code of Conduct. Brunei and China emphasized "self-restraint" as well as the "importance of resolving territorial and jurisdictional disputes through peaceful dialogue and consultations by sovereign states directly concerned" – a nod to China's preference for bilateral negotiations without external mediation.
Xi made sure to thank Brunei for its attitude on the South China Sea disputes. According to Xinhua, Xi told the Sultan that "China appreciates the dual-track approach proposed by Brunei: disputes should be handled through friendly consultation by parties concerned and countries in the region should jointly safeguard stability in the South China Sea."
Xi is hoping to continue his run of bolstering economic cooperation with rival South China Sea claimants as he visits the Philippines — and so far, he's off to a good start.