India, Japan Conclude First Dharma Guardian Military Exercise
The exercise marks the further deepening of military cooperation between India and Japan.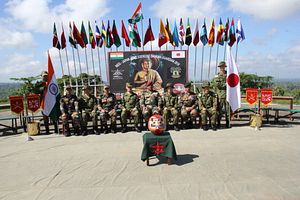 India and Japan concluded their first land-based joint military exercise on Wednesday. The first iteration of the Dharma Guardian exercise between the Indian Army and Japan's Ground Self-Defense Force (GSDF) concluded in the northeastern Indian state of Mizoram.
"The primary focus of the exercise was to train and equip the contingents to undertake joint counter-insurgency and counter-terrorist operations in urban and semi urban terrain," a statement released by the Indian Ministry of Defense said.
The statement also outlined the exercise's focus on counterterrorism operations and increasing the interoperability of the Indian Army and the GSDF. The Indian side was represented by the 6/1 Gorkha Rifles and the GSDF was represented by the 32 Infantry Regiment.
A statement released in October, attributed to Col. Aman Anand of the Indian Army, noted that the exercise would be "yet another step in deepening strategic ties including closer defence cooperation between the two countries."
"The contingents honed their tactical and technical skills in a wide spectrum of counter-insurgency operations including joint training on weapons and equipment, field training exercise and handling of improved explosive devices," a report by the Press Trust of India noted. The exercise also featured tactical drills focused on urban warfare scenarios.
The exercise started at the beginning of the month in the town of Vairengte in northern Mizoram where India's Counter-Insurgency and Jungle Warfare School is based. India regularly hosts visiting units from a range of countries at the school.
The exercise marks an important step in the continuing expansion of the military-to-military relationship between New Delhi and Tokyo. Both sides consider each other important strategic partners and have a growing set of arrangements since their declaration of a joint security partnership in 2008.
According to a joint vision statement released by Indian Prime Minister Narendra Modi and Japanese Prime Minister Shinzo Abe in October, the two sides "reaffirmed their desire to further deepen bilateral security and defense cooperation."
Military interactions between the two sides have primarily taken place in the naval domain; Japan has participated in the U.S.-India Malabar exercises, which have been trilateralized since 2015. Moreover, in 2012, India and Japan held their first-ever bilateral naval exercise.
Abe and Modi announced that the two sides would hold joint exercises between their armies, air forces, and navies going forward. India and Japan will also negotiate an Acquisition and Cross-Servicing Agreement, which will allow each country reciprocal access to the other's bases and facilities for logistics and resupply.