Japan, India to Conduct First Joint Fighter Jet Drill in January
The exercises, Veer Guardian 2023, mark a historic milestone in the two nation's defense and security ties.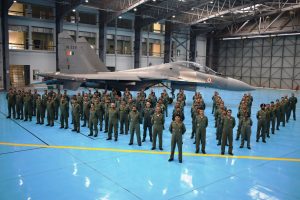 The Japan Air Self-Defense Force (JASDF) and the Indian Air Force (IAF) will conduct their first bilateral fighter jet training in Japan later this month, marking a historic milestone in the two nation's defense and security ties amid China's military buildup and regional assertiveness.
Their first-ever joint air combat training, called Veer Guardian 2023, will run from January 16 to 26 at Hyakuri Air Base in Ibaraki Prefecture and Iruma Air Base in Saitama Prefecture. The JASDF is participating with four F-2 and four F-15 fighters, while the IAF is fielding four Su-30 MKI fighter jets, two C-17 transport planes, and one IL-78 tanker, along with a contingent of around 150 personnel.
"By conducting joint Japan-India fighter training, we aim to improve the tactical skills of the JASDF, promote mutual understanding between the Japanese and Indian air forces, and further deepen defense cooperation," Izutsu Shunji, chief of staff of the JASDF, said at a press conference at the Japanese Ministry of Defense in Tokyo on January 12.
"Japan and India are in a special strategic global partnership relationship," Izutsu said, adding that "holding the exercises represents the JASDF and the IAF have established a mature relationship already."
Speaking to reporters at Hyakuri Air Base on January 10, Group Captain Rohit Kapil of the IAF, who will command the training, also said the drill will fortify the long bonds of friendship and enhance defense cooperation, marking another step in deepening bilateral strategic ties between the two countries.
On the same day, the IAF contingent arrived at the base, which is located about 80 kilometers (50 miles) northeast of Tokyo, and a welcome ceremony took place there.
The two nations agreed to proceed with coordination for their first bilateral joint fighter aircraft exercise in Japan during the first 2+2 Foreign and Defense Ministerial meeting held in New Delhi in November 2019, but it was delayed due to the COVID-19 pandemic, according to Izutsu.
Japan and India form half of the alliance of four large democracies called the Quadrilateral Security Dialogue (Quad).
The multilateral initiative, which also includes the United States and Australia, is committed to keeping a free and open Indo-Pacific, countering China's growing military capabilities and influence in the contested South and East China Seas.
"India is a like-minded country, and the JASDF aims to deepen defense cooperation with such country's air force," Izutsu stressed.
This drill will serve as a check against China. From Beijing's point of view, in a hypothetical invasion of Taiwan or the Japan-controlled but China-claimed Senkaku/Diaoyu Islands in the East China Sea, it would want to concentrate its fighter planes in the area around Taiwan and Japan. However, if Japan and India cooperate, China will be forced to worry about its border with India. Conversely, if China were to invade India, it would be concerned about Japan.
From a military point of view, the first-ever bilateral fighter joint drill will also provide precious opportunities to the JASDF. For one thing, the Sukhoi Su-30MKI was originally developed by Russia's Sukhoi and built under license by India's Hindustan Aeronautics Limited (HAL) for the IAF. The exercise is a chance for the JASDF to conduct air combat training with the Russian origin aircraft.
Notably, China's J-16 fighter jet is also a developed version of Russia's Sukhoi Su-30. With the JASDF increasingly being busy scrambling its fighter aircraft in response to Chinese military aircraft approaching Japan's airspace in recent years, the first bilateral fighter joint drill with the IAF could help enhance the JASDF's tactical skills to cope with Chinese aircraft.
I asked Izutsu about this at the press conference.
He pointed out both the JASDF and the IAF, among 17 nations in total, participated in the Royal Australian Air Force (RAAF)-hosted multinational exercise called Pitch Black 2022, held over the course of three weeks in August and September 2022. Thus this is not Japan's first time to train with the Russian origin aircraft.
Izutsu also stressed that Japan's first bilateral fighter jet training with India is not targeted at a specific country such as China.