Is a Thaw Coming in US-China Relations?
There are hopeful signs on several fronts, from trade issues to security ties.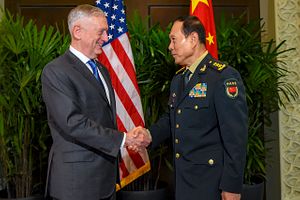 The news about U.S.-China relations has been decidedly negative lately, particularly since U.S. Vice President Mike Pence's fiery speech criticizing the Chinese government on October 4. But now, amid the trade war and continuing tensions in the South China Sea, there are glimmers of hope for a thaw.
Both China and the United States announced today that they will hold the second round of the Diplomatic and Security Dialogue (DSD) in Washington D.C. on November 9. The DSD is analogous to a "two-plus-two" meeting in that it brings together top foreign affairs and defense officials. It will be chaired by Secretary of State Mike Pompeo and Secretary of Defense James Mattis on the U.S. side; Yang Jiechi, director of the Chinese Communist Party's Office of Foreign Affairs, and Defense Minister Wei Fenghe will represent China.
The DSD was one of four new dialogue "pillars" announced by U.S. President Donald Trump and Chinese President Xi Jinping in April 2017. All four dialogues were held in 2017. Prior to today's announcement, though, not one has been resurrected for 2018; the DSD will be the first to have a second round.
According to media reports, the DSD was originally to be held in Beijing in mid-October, but the meeting was cancelled at the beginning of that month, supposedly because Wei was no longer available to host his counterpart. It is widely assumed that was retaliation for the U.S. decision to sanction a Chinese defense organization for purchasing the S-400 missile defense system from Russia.
But the freeze was short lived. Wei and Mattis met on the sidelines of the ASEAN Defense Ministers Meetings in Singapore in mid-October. Mattis described the talks afterwards as "straightforward and candid," according to a U.S. defense official.
In another positive sign for the relationship, the United States decided to grant China (along with seven other countries) a waiver to continuing purchasing Iranian oil without facing U.S. sanctions. China had been granted such waivers in the past but it was unclear up until the last minute whether that would hold true, given the mounting tensions between Washington and Beijing.
Adding the positive momentum, Chinese Vice President Wang Qishan said from Singapore that China was "ready to discuss and work for a solution on trade that is acceptable to both sides." While China has often repeated that it is willing to talk with the United States, the timing and the messenger both had particular resonance. Wang is a veteran of U.S. trade negotiations, having chaired annual economic talks during his time as vice premier.
Chinese Foreign Ministry spokesperson Hua Chunying seemed to trace the origins of the thaw to a telephone between Trump and Xi last week. Trump had called the conversation "very good" and a Chinese spokesperson likewise said it "was an extremely positive phone conversation."
Bloomberg reported that, following the conversation, Trump "asked key U.S. officials to begin drafting potential terms" for a trade deal with China.
The day after that phone call, Trump said that he and Xi would be meeting and having dinner on the sidelines of the G20 summit, to be held at the end of November in Argentina. "We've had very good discussions with China. We're getting much closer to doing something," Trump told reporters on November 2.
"I think a very good deal will be made with China… And a lot of progress has been made. A lot of progress," he added. "[…]I know they want to make a deal. They've been hit very hard. Their economy has been very, very bad."
But White House economic adviser Larry Kudlow undercut that optimism in comments to Bloomberg: "[T]here's no mass movement, there's no huge thing, we're not on the cusp of a deal."
Veteran China watcher Bill Bishop has one sign to watch for regarding potential progress. Bishop said he was "hearing that Liu He may come to DC soon after [the DSD] if it looks like there is progress towards at least a framework deal at the G20." Liu, nominally a vice premier, is President Xi Jinping's top economic adviser and has previously headed up Chinese delegations for trade talks with Washington. If Liu makes the trip to Washington, it's a sign that China believes talks are progressing – and that the Trump administration is serious about making a deal.
The United States and China had reached a compromise deal before tariffs took effect, wherein China pledged to increase imports from the United States but did little to tackle broader structural concerns about intellectual property theft and market access. But Trump quickly overturned that deal by moving forward with U.S. tariffs on Chinese goods.
Given the litany of U.S. complaints, epitomized by Pence's speech, it's hard to imagine the structural issues in the relationship going away anytime soon. But even a trade truce would be a welcome step back from the mounting tensions.