Is Taiwan's Drive to Legalize Gay Marriage Descending Into Chaos?
With contradictory referendums set to hit November ballots, LGBTQ advocates are critical of President Tsai for not acting sooner.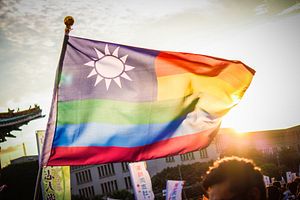 On November 24, Taiwanese will vote on a series of referendums meant to determine whether the country will become the first in Asia to legalize gay marriage.
The upcoming ballot measures are not what LGBTQ advocates had in mind when, in May 2017, Taiwan's constitutional court ruled that the existing civil code definition of marriage as being between a man and a woman was unconstitutional and gave the country's legislature two years to enshrine same-sex unions into law.
Eighteen months later, however, this has yet to happen. Ahead of the upcoming elections, conservative groups have introduced three referendum items aimed at overturning the court mandate to legalize gay marriage, along with repealing provisions of the 2004 Gender Equity Education Act and banning "homosexuality education" in Taiwan's schools.
The groundswell of opposition made this year's gay pride parade, held on October 27 in Taipei, into an unusually political affair. According to parade organizers, about 137,000 people attended East Asia's largest such event to call for "Yes" votes on parallel referendum items, introduced by marriage equality supporters, that would legalize same-sex marriage and mandate the inclusion of sexual diversity in the country's sexual education.
Under Taiwan's Referendum Act, which was amended in January 2018 to lower required signature thresholds, 25 percent of eligible voters must vote "Yes" for a referendum item to pass and become legally binding.
Regardless of their ultimate outcome, voters will be asked to decide on confusing measures with contradictory language, leaving open the possibility that opposing results could pass. LGBTQ activists say this all would have been avoided had President Tsai Ing-wen and her ruling Democratic Progressive Party (DPP) acted sooner following the 2017 court decision.
Tsai campaigned in support of gay marriage prior to her 2016 election as president, but members of her party have since backed away from this stance in the face of well-organized opposition. In a June 2018 interview with Agence France-Presse, Tsai said that society was divided on the issue, but her government would "bridge the differences" and propose a bill.
The constitutional court maintains that its decision must go into effect in May 2019 regardless of legislative action. However, a strong public mandate against gay marriage in the upcoming referendums could leave the government in the unprecedented position of being forced to legislate on a court ruling in favor of same-sex marriage and a popular decision to ban it. It is likewise uncertain how the government would respond to a result that fails to deliver a clear public consensus for or against gay marriage.
In the run-up to elections, the situation is only becoming more convoluted. Out of five referendum questions, two pertain to sexual education (one introduced by each side) and three deal directly with LGBTQ rights (two introduced by opponents of gay marriage, one by its supporters). Per the Referendum Act, five televised debates must be held on every public referendum question – meaning 15 debates will cover the latter three questions in the coming weeks. However, recent reports discovered that groups opposed to same-sex unions had registered in place of pro-LGBTQ groups in nine of those 15 debates, effectively silencing marriage equality proponents in those venues.
The outpouring of cohesive, methodical opposition to same-sex unions has extinguished the unbridled optimism among supporters that followed the 2017 court decision. At the time, Tsai quickly called for legislation to be passed "in a timely manner." LGBTQ advocates, who have called on the legislature to amend the country's civil code in accordance with the judicial ruling, are adamant that what has followed does not qualify.
While the upcoming referendums are being seen by some as symbolic of Taiwan's vibrant democracy, they have also showcased its struggles in dealing with the rapid spread of misinformation in the Taiwanese press and on social media.
On November 1, the independent Taiwan Fact-Checking Center published a report attempting to clarify popular misconceptions about the language of the three referendums put forth in opposition to gay marriage. Online discussion has been mired by oft-repeated false claims, according to Johnson Liang, founder of Cofacts, a chatbot that fact-checks information on the popular messaging app LINE. Falsehoods include assertions that legalizing gay marriage will affect Taiwan's falling birthrate, along with unsubstantiated concerns that legalization will lead to foreigners with AIDS coming to Taiwan to take advantage of the country's national health insurance.
Liang, who is a supporter of legalizing gay marriage, says he is proud that his organization has acted as a counterbalance to a formidable campaign to oppose same-sex unions. However, as Taiwan gears up to decide on referendums which could throw its 2017 constitutional court decision into limbo, LGBTQ advocates will head to the polls wondering whether the current legal quagmire was truly necessary in the first place.