Japan Plans Large Unmanned Submersibles
New capabilities suggest how Japan plans to defend Senkakus in East China Sea.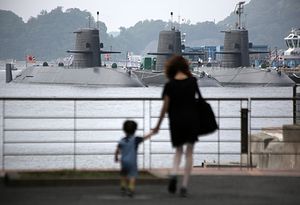 Japan's Defense Ministry plans to design and construct large unmanned undersea vehicles to monitor its remote islands, sources have said. Other recent reports about plans for long-range precision bombs and efforts to develop island-defense plans with the United States suggest how Japan plans on deterring China from taking military action in the Japanese-administered Senkaku islands in the East China Sea.
Both Japan and China claim the uninhabited islands, which China calls the Diaoyus. Since the Japanese government purchased them from private owners in 2012, China has regularly sent ships and aircraft into the waters around them to protest Japan's claim.
Kyodo news reports that the new unmanned undersea vehicle will be part of Japan's next five-year defense plan. The vehicle will be over 10 meters long, capable of persistent, long-range surveillance. Some analysts say that such vehicles could eventually be fitted with weapons systems. The size puts them in the range of Extra Large Unmanned Undersea Vehicles that the U.S. Navy is pursuing.
This might enable Japan to utilize its manned platforms more economically. Undersea vehicles could monitor far-flung areas like the Senkakus without Japan having to commit manned vessels or submarines unless they detected a threat.
Kyodo also reports that the United States and Japan are developing joint plans for responding to an emergency or incursion of the islands by Chinese forces.
The United States does not take a position on the sovereignty of the islands, but both the Obama and Trump administrations have affirmed that because they fall under Japanese administration, the United States would be obligated to defend them by the two countries' defense treaty.
The reports say that the plans would focus on integrating the United States' strike capabilities into the joint response, something that Japan's Self Defense Forces lack. Because Japan's constitutional self-defense limits, it has long resisted developing long-range strike weapons, which could be construed as having offensive utility.
Long-range strike capabilities would significantly contribute to the credibility and effectiveness of Japan's efforts to deter China from taking military action against the Senkakus. While it may have to rely on the United States for those capabilities for now, Japan may be planning to expand its arsenal.
Earlier this fall it was reported that Japan was developing a supersonic glide bomb to enter service in the mid-2020s. The weapon would be lofted to a high altitude by a missile and then glide to its target unpowered at supersonic speeds. The new weapon would provide Japan with a novel, long-range precision strike capability and flexibility to craft a deterrent policy that does not have to depend on partners or allies.
Japan's planned unmanned undersea vehicle and long-range coastal radar stations installed on its southwest islands facing the East China Sea could combine in the future to cue long-range strike capabilities like the glide bomb and a planned new land-based anti-ship cruise missile to engage adversary warships while its own self-defense vessels moved into position.