Japan to Invest in AI-Enabled Maritime Surveillance Platforms
AI and machine learning will reduce demands on human analysts.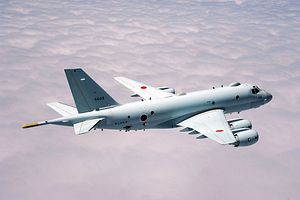 The government of Japan is slated to begin research on bolstering the capabilities of existing and future maritime surveillance aircraft through the use of artificial intelligence and machine learning, the Nikkei Asian Review reported last week.
The incorporation of these technologies into surveillance platforms is expected to reduce demands on personnel while improving response times.
"Currently, radar data converted to black-and-white images are scrutinized by experienced SDF personnel. The AI would be able to acquire such expertise instantly," the Nikkei Asian Review noted.
According to the report, the Japanese Ministry of Defense will initiate research and development of AI-enabled maritime surveillance platforms beginning in the new fiscal year in April. Around 900 million yen, or approximately $8.25 million, will go into developing this technology, which will find its way into Maritime Self-Defense Force surveillance aircraft "as early as fiscal 2024."
Japan's December 2018 National Defense Program Guidelines called for the development of such capabilities. The Ministry of Defense and Self-Defense Force "will also promote manpower saving and automation by leveraging technological innovations such as artificial intelligence," the document noted.
Technologies commonly described as "artificial intelligence" range from sophisticated neural network-based deep learning to more rudimentary probabilistic analysis based on statistical principles.
In the field of intelligence, surveillance, and reconnaissance, machine learning-enabled systems can be trained to quickly analyze and characterize the nature of various inputs in imagery or radar returns. In the context of military applications for surveillance, such technologies could greatly reduce the analysis demands on human operators in a conflict and serve to more quickly identify possible threats.
Around the world, investments into military surveillance artificial intelligence technologies are primarily geared toward better using and understanding the massive amounts of raw data that can be gathered by modern sensors.
Japan, as a maritime nation with 4.48 million square kilometers of claimed exclusive economic zone, values maritime domain awareness. The Maritime Self-Defense Force actively monitors waters off the country's coast—particularly in the contentious East China Sea, where Tokyo is embroiled in a territorial dispute with China over a set of islands and in the Sea of Japan.
The Maritime Self-Defense Force's maritime surveillance workhorses are primarily the Lockheed P-3 Orion and the indigenously designed Kawasaki Aerospace Company P-1.
In 2019, the Japanese Ministry of Defense expanded the geographic scope of P-1 deployments to cover more of Japan's territory.
"We took into account China's increasing activities in the East China Sea and the Pacific Ocean," the Ministry of Defense said of the deployments. "We also aimed to improve defense readiness in the sea in Japan's southwestern region."