Tajikistan's Rogun Dam Begins Operations
While only 75 of its intended 335 meters have been built, the first turbine at Rogun has gone into operation with much fanfare.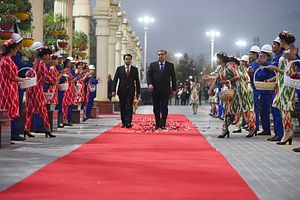 As Tajik President Emomali Rahmon strode down a long red carpet with his son and current mayor of Dushanbe, Rustam, a step behind him, women in traditional dresses shuffled forward to toss rose petals in their path. Between the women, men in blue work clothes and white construction hats, clapped.
On November 16, Rahmon oversaw the launch of the first unit at the Rogun dam. The moment — more than 40 years in the making — was cause for celebration, with festivities marked by performances and fireworks.
"Roghun will be the pride of every citizen of our country now and in the future, it will be the source of patriotism and dedication, as well as warm feelings and honor of the Tajik nation!" Rahmon proclaimed.
The Rogun dam's history stretches back to 1976, when initial construction began. As I noted when construction re-started at Rogun in 2016, "unlike the Nurek dam further downriver — which took 11 years to build and opened in 1972 — Rogun has been stalled for various reasons for four decades."
Progress on the Rogun dam has been stalled at various junctures by politics, civil war, floods, unimplemented agreements, and consistently by financial setbacks. In 2010, Rahmon urged his countrymen to buy shares to fund the project, a move that made international financial institutions like the IMF squirm. The endeavor only raised $185 million. (Eurasianet has a great report focused on the shares and the key question of whether the Tajik people will truly benefit from the Rogun project.)
The Rogun project is expected to cost about $3.9 billion. Tajikistan's latest gambit to raise funds was a September 2017 entrance into the international bond market. Dushanbe put up $500 million in 10-year bonds with a yield of 7.125 percent — termed "junk bonds" — to tempt high-yield debt hungry investors. As Eurasianet astutely pointed out: "For the period from 2025 to 2027 alone, Tajikistan will be on the hook for more than $200 million."
As it stands now — 75 meters tall with one of six planned turbines in operation — the Rogun dam remains a long way from competition. With a target height of 335 meters, if completed to specification Rogun will be the world's tallest dam, taking that accolate back from China's Jinping-I Dam which opened in 2013 just slightly taller than Nurek.
Each of the six turbines planned for Rogun ought to be able to generate 600 MW. That 3,600 MW output will double Tajikistan's current electrical production and is intended to not only solve the country's problem with winter electricity shortages, but provide enough for export to South Asia via the CASA-1000 project.
In 2016, as Rahmon drove a bulldozer, pushing a pile of dirt and gravel into the Vakhsh River, marking the start of construction (again), I cautioned: "Given the project's history, skepticism is warranted. All the spoilers that derailed previous pushes to finish the dam remain possibilities; political instability and financial failings could easily balloon costs or delay construction further."
While that assessment remains valid, one spoiler appears to have receded: Uzbekistan. Rogun construction began in 2016 about two months after the death of Uzbek President Islam Karimov, who vehemently campaigned against the Rogun dam on the international stage, famously going as far as suggesting war over water in the region. Karimov's successor, Shavket Mirziytoyev, has largely set aside Uzbekistan's loud objections to the project in favor of mending ties between Tashkent and Dushanbe. In a joint statement released this past spring as Mirziyoyev visited Dushanbe, the first visit by an Uzbek leader since Karimov in 2000, the two sides suggested Uzbek involvement in the project.
At present, Rogun is scheduled for completion in 2028. Even if the Uzbekistan problem has been neutralized by Mirziyoyev's diplomatic aims, which have focused on regional cooperation, many of the previous potholes for the project remain in play. Natural disasters, funding issues and political instability could all derail the project. But the Rogun dam is a matter of legacy for Rahmon. In that vein, the appearance of Rustam — often at his father's side in key public appearance — suggests that Rahmon has every intention of securing his progeny a place at the pinnacle of power in Tajikistan for generations to come.