Xi Arrives in Papua New Guinea for First-Ever Visit by a Chinese President
Xi Jinping hopes to defend – and expand – China's role in the Pacific.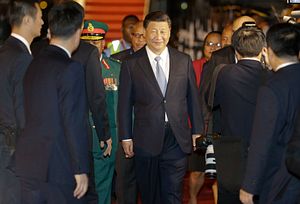 Chinese President Xi Jinping arrived in Port Moresby, Papua New Guinea on Thursday, marking the start of his first state visit to the Pacific Island country – and indeed, the first visit to PNG ever by a Chinese head of state. Xi's visit is tied to the upcoming APEC leaders' meeting, which will be hosted in Port Moresby from November 17 to 18. Xi will spend the two days before that on his official state visit, and will also fit in a meeting with the leaders of eight Pacific Island countries.
While the timing of this first-ever Chinese presidential visit was largely dictated by PNG's role as APEC host, it turned out to be fortuitous for Beijing. Xi touched down in PNG, which is the largest Pacific Island state both by land area and population, at a time when debate is raging overseas about its aid policies – including in the Pacific. In January 2018, Australia's Minister of International Development Concetta Fierravanti-Wells made headlines when she accused China of constructing – and funding — "useless buildings" and roads to "nowhere" in Pacific Island countries. That comment sparked forceful pushback both from China and from Pacific Island leaders, who found the implications "insulting" (in the words of Samoa's prime minister).
Australia has since walked back the strength of that accusation, especially as the new Morrison government seeks to mend ties with China, but the sense of a competition with Beijing for influence in the Pacific remains. Canberra is thus stepping up its engagement in what its traditional backyard, promising over AU$260 million (roughly US$190 million) in funding from 2018-2019 under the Pacific Regional Program.
The visit to PNG gives Xi a prime chance to hit back at accusations that China is pursuing "debt trap diplomacy" in the Pacific Islands. In an article for Papua New Guinea's Post Courier, published just ahead of his arrival, Xi highlighted China's commitment to treating Pacific nations with "mutual respect."
"China believes that all countries are equal, regardless of their size," Xi declared, repeating a common refrain in Chinese diplomacy.
But in an oblique nod to the criticisms, Xi also wrote that China and the Pacific Islands "need to bring our strategic trust to a higher level." As part of that, Xi pledged that "China will enhance solidarity and cooperation with Pacific island countries, support their development, and help narrow down the development gap between the North and the South." In other words, Xi made the case that Chinese aid will actually benefit the recipients.
It should surprise no one that China's vision of "practical" trade and investment cooperation centers on the Belt and Road Initiative. And in that regard, Xi's PNG trip has already reaped huge successes. China is using Xi's presence in the PNG – which will include a meeting with the leaders of seven Pacific Island nations other than Papua New Guinea – as an impetus to bring even more Pacific countries into the fold.
PNG officially signed on to the BRI in June 2018, during Prime Minister Peter O'Neill's visit to China. Niue joined in late July; Samoa and Micronesia in October; and Fiji officially signed up on November 12. The Cook Islands (which is self-governing but relies on New Zealand for its defense) has announced it expects to sign a similar agreement this week, ahead of the meeting with Xi and his delegation. An official from Tonga told Reuters the country was "discussing" a request from China to join the BRI. Reuters also reports that Vanuatu will become another new BRI member, though Vanuatu's foreign minister said he was unaware of any such plan.
On the sidelines of the APEC summit this weekend, Xi will be meeting with leaders from PNG, the Cook Islands, the Federated States of Micronesia, Fiji, Niue, Samoa, Tonga, and Vanuatu. It's no coincidence that all eight countries have either already joined or are strongly considering joining the BRI.
There's another motivation for the lavish BRI diplomacy going on this week – China will be hoping to prove to all the Pacific Island states the value of cooperating with Beijing, rather than Taipei. China scrapped it's so-called "diplomatic truce" with Taiwan soon after the election of the more independence-minded Tsai Ing-wen in 2016. Since then, China has poached five diplomatic partners from Taiwan – but, notably, none from the Pacific. Taipei currently has relations with six Pacific Island countries — Kiribati, the Marshall Islands, Nauru, Palau, the Solomon Islands, Tuvalu – which accounts for over a third of its remaining 17 diplomatic allies.
PNG's prime minister has invited the heads of all the Pacific Islands Forum members to attend the APEC festivities, meaning leaders from Taiwanese allies like the Solomon Islands will have a front-row seat as their counterparts are feted by China. Beijing will be hoping to convince the leaders of the six hold-outs that they don't want to be left on the outside looking in during Xi's next trip to the region.