Can We Call It An Uzbek Spring Yet?
Over the last two years, Shavkat Mirziyoyev has certainly changed Uzbekistan. But how much and why?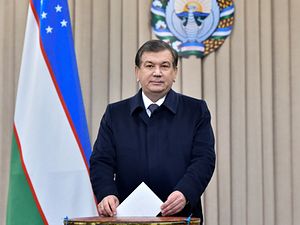 Shavkat Mirziyoyev's two years as Uzbekistan's president have provided some welcome surprises. Mirziyoyev took over after the announcement of Islam Karimov's death on September 2, 2016. Karimov had been the first, and only president of Uzbekistan during its first 25 years of independence, and for the last 13, Mirziyoyev had been prime minister. Expectations were not high that Mirziyoyev would introduce radical changes to the increasingly isolated and economically stagnant country he inherited, but he has. Some call the changes an "Uzbek spring," but there is a difference between winter loosening its icy grip and the advent of spring.
Key questions remain to be answered. Was Mirziyoyev really a democrat in wolf's clothing all those years he was a top official in Karimov's government? Now that he is in power, can Mirziyoyev at last create a better Uzbekistan for the country's people and reform the country into a reliable partner in the world community? Or are the changes he is now making motivated by need, a means of solidifying his rule over a country that seeks to increasingly assume a role as regional powerhouse?
When Mirziyoyev took over as Uzbekistan's leader, he inherited a government with a reputation as a chronic rights abuser, a regional bully, and an unreliable international partner.
Uzbekistan had a stagnant economy, epitomized by a hydrocarbon sector that regularly showed declines in production during the last decade of Karimov's presidency. Despite the country possessing sufficient reserves of oil and natural gas to not only make Uzbekistan self-sufficient for energy needs but allow exports of these commodities as well, shortages of electricity and heating and long lines at petroleum filling stations had become the norm. The knock-on effect of fuel shortages filtered into other sectors of production, factories, plants, and mechanized farming.
Uzbekistan has by far the largest population in Central Asia, with more than 32 million people. But for many, jobs have been difficult to find. As a result, for more than a decade millions have left Uzbekistan to find work in other countries. As many as 2 million citizens of Uzbekistan, officially, are migrant laborers in Russia; that number may actually be twice as high according to some estimates. If so, and there have been as many as 4 million Uzbeks working in Russia, that is roughly one-third of Uzbekistan's eligible workforce.
Shortly after being unconstitutionally confirmed as acting president on September 8, 2016, Mirziyoyev stated his priorities would be to improve relations with the country's neighbors and get Uzbekistan's economy moving forward after years of stagnation. The two goals are connected.