North Korea: No Closer to Denuclearization
A year of historic diplomacy reduced tensions on the Korean Peninsula, but denuclearization remains a distant dream.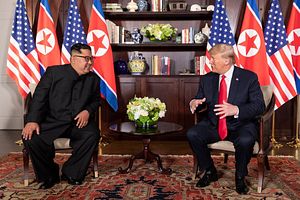 North Korean leader Kim Jong Un is a hermit no longer. After a little more than six years in charge of North Korea, having taken over following his father Kim Jong Il's death in December 2011, 2018 marked Kim's great coming out to the world. In many ways, Kim – the third dynast to rule the juche monarchy that is North Korea – showed how he followed in the footsteps of his father and grandfather. But matters didn't end there: Kim gave the world just enough to spark thoughts, near and far, that he might be different enough that the benefits of engaging with him would open the door to a different kind of North Korea.
As 2019 dawns, the verdict remains open on the discontinuities that might be just around the corner on the Korean Peninsula. Long-time analysts of the region have found that it pays to profess pessimism. Two previous rounds of Seoul's "sunshine" summit diplomacy with Kim Jong Il, in 2000 and 2007, produced a temporary balm for inter-Korean tensions and, in the case of the first summit, left South Korea with a scandal.
But in 2018 alone, South Korean President Moon Jae-in met Kim three times – once on an impromptu basis after U.S. President Donald J. Trump in the final days of May canceled what was then a scheduled summit. That hastily arranged Moon-Kim summit, their second meeting, saved the U.S.-North Korea summit, which took place on June 12, making history.
Where 2017 wrapped up with a sense of grim finality, 2018 offers nothing of the sort on the Korean Peninsula. In the final weeks of 2017, North Korea had declared the qualitative aspects of its nuclear deterrent complete with the first – and to date only – flight test of the Hwasong-15 intercontinental-range ballistic missile. Meanwhile, murmurs circled in the United States that the Trump administration was contemplating a "bloody nose" or limited strike on North Korea, raising the possibility of a nuclear war. In 2018, by contrast, tensions have evaporated. Far from a "bloody nose," Trump has professed nothing less than his "love" for Kim and expressed eagerness for a second encounter with the North Korean leader in 2019.
As the year ended on the Korean Peninsula, however, there are appearances and there are realities. Based on the year's record, even as Moon, Kim, and Trump have succeeded in reducing tensions from their 2017 highs, North Korea's nuclear disarmament remains a distant goal.