Australia Courts Vanuatu With Prime Minister Visit
Much as Canberra may desire a formal defense agreement, Australia is unlikely to woo non-aligned Vanuatu that far.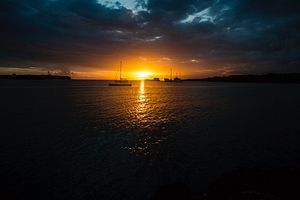 This week saw a historic visit by Australian Prime Minister Scott Morrison to the Pacific Island country of Vanuatu. The three-day visit, which began Wednesday, is the first by an Australian prime minister for bilateral talks. (Prime Minister Bob Hawke attended the Pacific Islands Forum in Vanuatu in 1990.) The visit is an attempt to demonstrate that Australia is serious about renewed engagement in the Pacific, and that the region will become a greater priority in Canberra's foreign policy.
While in Vanuatu, Morrison and Vanuatu Prime Minister Charlot Salwai announced a number of new collaborations between the two countries that would focus on areas of disaster and cyclone relief, improved telecommunications, and greater access to reliable energy supplies. In the realm of security, support from Australia would come in relation to policing, and operational support to help tackle regional drug trafficking and illegal fishing.
However, it seems Morrison's hope of securing a formal defense agreement with Vanuatu has not been successful. Last year while in Australia, Vanuatu Prime Minister Salwai was approached by the Australian government about the possibility of a bilateral security agreement between the two countries, but he declined. It was believed ahead of the trip that Morrison was going to raise the subject again with Salwai while in Vanuatu. For Australia, the aim to formalize a defense agreement with Vanuatu is clearly driven by the desire to remain the dominant regional player in light of rising competition from China. But these geostrategic calculations seem to have run into the wall of Vanuatu's fiercely independent foreign policy.
Last year concern about Chinese influence in Vanuatu was raised when rumors of Chinese plans to set up a military base in Vanuatu were published in the Australian press. However, Vanuatu's foreign minister, Ralph Regenvanu, repeatedly stated that there were no such plans, and that the country remains opposed to any military activity within its borders. Yet, in a display that seemed to be all too indicative of Australia's attitude to the Pacific, no-one seemed to listen to him, and the rumor persisted. It seemed the idea of China building a military base in the region confirmed too many preconceived ideas to warrant paying attention to Regenvanu. For Pacific leaders the saga would have confirmed their general sense that larger powers tend to talk over the top of them, rather than with them.
The reality of the situation was that as an enthusiastic participant in the Non-Aligned Movement, Vanuatu would be suspicious of any outside power attempting to threaten its independence, either with a foreign military facility on its soil, or even a binding defence agreement. Although the Non-Aligned Movement (NAM) had its origins in the Cold War, and may be deemed a product of the times, the organization still maintains its multilateral structures, and remains committed to a number of its core concepts. Many of those concepts align with Vanuatu's ideals, in particular continued support for decolonization.  
In 1983, Vanuatu saw its decision to join the Non-Aligned Movement as an expression of its newly gained independence, and in particular connected itself to the movement's opposition to colonialism and imperialism. Prior to 1980, the New Hebrides, as Vanuatu was then known, was governed by a unique colonial condominium between the United Kingdom and France. A system that duplicated all administrative tasks between the colonial powers and created daily bureaucratic absurdities that established an extra layer of complexity to the humiliation and suppression of their colonial experience. Understandably the newly independent country was keen to move away from the Western alliance that included the UK and France and seek connections with other decolonized states (a history that binds most of the NAM states).
At the Ministerial Meeting of the Non-Aligned Movement, held in Baku, Azerbaijan, in April last year, Regenvanu explained that Vanuatu's  ideal vision is "… to be non-aligned from major global powers, to free people from colonial oppression, to ensure international peace and stability, to champion human rights, and to ensure an inclusive and reformed multilateral order…"  
Decolonization remains a key ideal driving Vanuatu's foreign policy. For example, the country is the most vocal of the Melanesian states in its advocacy for the rights of people in West Papua. Often using its presence in international forums to bring attention to issues in West Papua. The desire to maintain and advance the ideals of self-determination — as both a movement and as its own sovereign ideal — seem deeply connect to its foreign policy decision-making.
The NAM's core concepts of abstention from joining large power alliances and opposition to military bases in foreign countries seem very much inspired by the mutual colonial past of much of its membership. This past cannot help but breed a suspicion toward the way larger states utilize their power. So, for Vanuatu, the perception may be that a defense agreement with Australia could bring the country too intimately into the influence of Canberra's network of alliances and this potential influence of the present would be a reminder of the subjugation of the past.