How Concerned Is Turkmenistan About Its Afghan Border?
A reported drive to register men under 50 for the army reserves hints at underlying concern about the border.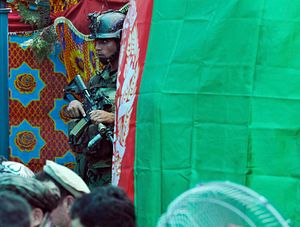 Turkmen authorities have reportedly launched a new drive to register men under 50 for the army reserves. According to RFE/RL, referencing a Defense Ministry source, "all conscription commissions across the Central Asian country had been instructed to register males younger than 50 and assess whether they are capable of taking part in military operations."
"It is linked to the tense situation along the border" with Afghanistan, the source said.
Predictably, there has been no official announcement from the Turkmen government to this effect. Ashgabat, which holds to what it terms a "positive neutrality" policy, does not participate in regional security arrangements like the Russian-led Collective Security Treaty Organization (CSTO) and is shy about military exchanges. There have, however, been hints in recent years that Turkmenistan is increasingly concerned about its southern border and snippets of news that suggest Ashgabat is open to limited assistance.
According to RFE/RL, in December a senior Russian military official said that Russia had resumed cooperation and joint training with the Turkmen armed forces, a first since 1991.
Although the last decade's worth of posture statements from U.S. Central Command, which oversees U.S. military operations in Afghanistan, all highlight the limited nature of engagement with Turkmenistan, they also all note concern about the border.
In his 2017 posture statement, an annual statement delivered to Congress that lays out CENTCOM's priorities and thinking, Gen. Joseph Votel said "We are encouraged somewhat by Turkmenistan's expressed interest in increased mil-to-mil engagement with the U.S. within the limits of their 'positive neutrality' policy." The 2018 statement however only cited medical exchanges.
Turkmenistan, in addition, has consistently received a sanctions waiver on national security grounds, keeping Ashgabat from being sanctioned for its listing on the Countries of Particular Concern (CPC) list.
While Turkmenistan appears on a recent map of U.S. military activities around the world put out by Brown University's Costs of War Project, it's marked with a target labeled "Training/Assistance: The U.S. military and/or State Department trained or assisted the country's security forces in counterterrorism." That's broad and vague enough to mean almost anything.
While, as I noted in 2017, Turkmenistan's government is "mostly mum and often duplicitous" when it comes to the state of the border (and frankly, most everything else too), "Whatever is happening on the Turkmen-Afghan border, it's decidedly more than nothing."
That refrain remains valid. One merely has to look at the Afghan side of the border.
According to the October quarterly report released by the Special Inspector General of Afghanistan Reconstruction (SIGAR), Badghis and Faryab are among the seven provinces with the most insurgent attacks in the period from January 1, 2018, to August 15, 2018. Faryab had the most enemy initiated attacks (EIA) in that period of any Afghan province: 1,176.
A map of district-level control in that same report states that as of July 31, 2018, of the districts along the Afghan-Turkmen border, only the one in Balkh Province that touches Turkmenistan is marked as "Afghan government controlled." The northeastern and southwestern sections of the border are "Afghan government influenced." It's the span in the middle — Afghanistan's Badghis and Faryab Provinces — where the colors shift to yellow and red, "contested" and "insurgent activity" in the map's parlance.
If there's insurgent activity on the Afghan side of the border, it follows that Turkmenistan would be concerned about it. What's unclear is how well equipped the country is to deal with the situation. If Turkmenistan is engaging in a new campaign to register men under 50 for possible military service it may be simply an autocratic state finding another way to take an accounting of its people, but it seems likely also that this is another piece of information hinting at deep concerns about the security of the border. One, of many, unanswered questions is how bad the situation has to get before Turkmenistan asks for serious assistance.