Turkmenistan Turns Off the Lights in Northern Afghanistan
Nothing says friendship like turning off the power on New Year's Eve.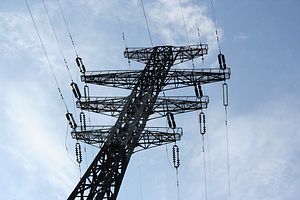 Within an hour of the new year, Turkmenistan reportedly shut off electricity to northern Afghanistan after the authorities in Kabul rebuffed Ashgabat's demand for a 100 percent price increase. By January 2, following an agreement to extend electricity exports for a month the power was back on, but the incident is just another point in an accumulating pile of data that all is not well in the Turkmen economy.
On Monday, Da Afghanistan Breshna Sherkat (DABS), Afghanistan's national electricity utility company, announced that Turkmenistan had suspended electricity exports to northern Afghanistan. People in Herat, Faryab, Sar-i-Pul, and Jawzjan found themselves without power at about 11:20 Sunday night, according to DABS.
Pajhwok Afghan News reported that Amanullah Ghalib, the head of DABS, said Turkmenistan had decided to double the price of electricity imports to Afghanistan from 1.5 Afghanis to 3 Afghanis (about $0.04) per kilowatt. Afghanistan declined to pay the higher price and Turkmenistan shut off supplies.
The incident has all the same flavors of Turkmenistan's shut off of gas supplies to Iran in the winter of 2007-2008.
Then-Iranian Oil and Gas Minister Gholamhossein Nozari said at the time that Turkmenistan wanted to nearly double the price from $75 to $140 per 1,000 cubic meters. That dispute was resolved but resurfaced in January 2017 when Turkmenistan cut off gas supplies to Iran, claiming Tehran had failed to pay $1.8 billion stemming from that same period of time. Iranian sources now say that in 2007 the country had been paying $40 per 1,000 cubic meters (not $75) and that Turkmenistan demanded, and got, a nine-fold increase to $360 per 1,000 cubic meters.
The Iran-Turkmenistan gas spat, as I wrote in an article for The Diplomat Magazine this month, looks to be headed for international arbitration. Iran doesn't want to pay up and Turkmenistan needs the money.
Like in the case of Iran, Turkmenistan seems to have demanded a massive price increase from Afghanistan and when rebuffed, pulled the plug as a coercive measure. Wielding its power as a supplier is Turkmenistan's only real weapon but the blade cuts both ways and potentially damages isolated Turkmenistan's relations with its neighbors.
Paradoxically, Turkmen officials had paid a visit to Kabul in early December and reportedly mentioned lowering the price of electricity for Afghanistan, according to an earlier Pajhwok report.
According to DABS, Afghanistan imports about 1,000 megawatts of electricity from Iran, Turkmenistan, Uzbekistan, and Tajikistan.
Afghan President Ashraf Ghani's visit to Uzbekistan last month included talk of increasing Uzbek electricity imports to Afghanistan via new power lines as well as construction of railways that would ultimately connect Uzbekistan to Herat and from there, Iran.
Meanwhile, according to DABS, Afghan imports of electricity from Tajikistan are set to rise. An agreement signed recently projects an 18 percent increase in Tajik exports to Afghanistan in 2018.
For now the power is back on in northern Afghanistan, but how much Turkmenistan can squeeze out of Afghanistan is a direct product of how much Afghanistan thinks it can import from other countries at better prices. And further, if Afghanistan has the infrastructure necessary to run electricity from other importers into the regions presently supplied by Turkmenistan.
As with the case of Iran, infrastructure can be built to lessen Turkmenistan's power in the relationship. Sanctions slowed progress, but Tehran has still managed to invest in constructing the internal pipelines it needs to transport gas from its energy-rich souch to the northern region, which had relied on Turkmen imports to satiate increased winter demand.
In his end-of-the-year summary, Turkmen President Gurbanguly Berdimuhamedov said, "The next year will be the year of triumph of friendship and sincerity."
Nothing says friendship like turning off the power on New Year's Eve.