How Long Can India's China Juggle Last?
While New Delhi continues to walk a fine balance, its ability to sustain this approach remains to be seen.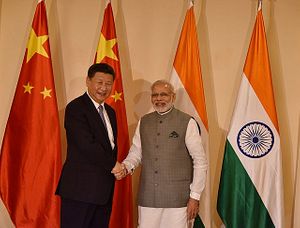 India's China policy is going through a bit of a strange time. Since the Wuhan Summit in April 2018 the two countries have been making great efforts to demonstrate that all is well in their relationship and that both sides expect the relationship to warm up further in the coming years. On the other hand, there is little indication that India's concern about China's military and political pressure is declining. It is unclear how long India can stay on these diverging tracts.
At the diplomatic level, New Delhi has been doing its best to keep the smile on its face. As an indicator of this, the number of diplomatic engagements between the two sides has been in the spotlight and has seen officials convey words of warmth to reaffirm the state of ties. In late December in particular, in addition to official bilateral exchanges, there was also an India-China High-Level Media Forum as well as an India-China Think Tank Forum.
Addressing the Media Forum, India's External Affairs Minister Sushma Swaraj called Wang Yi, the foreign minister of China, "my close friend and my brother" before going onto emphasize the need for people-to-people, cultural, and educational exchanges. She noted the "Wuhan Spirit," thanked China for the "concrete steps" taken by the "Chinese side" to find a solution to the increasing trade deficit, and listed the various multilateral forums where India and China are cooperating. A day earlier, in a message to the Think Tank Forum, she noted the "civilizational bonds" between the two countries and highlighted the expectations that India and China will lead Asia and usher in a new Asian century.
As important as what was said was also what was left unsaid. Hosting the newly elected prime minister of Bhutan, Lotay Tshering on his inaugural state visit, Indian Prime Minister Narendra Modi waxed eloquent about Indo-Bhutanese relations and Indian assistance as a "trusted partner and friend in the development of Bhutan" with space science becoming a "new dimension" in India-Bhutan relations. Despite the fact that months-long Doklam confrontation had taken place on Bhutanese territory, there was little indication of any international issue and certainly not China in his speech.
While these issues are almost certain to have come up during the discussions, India's reluctance to raise them publicly fits with much of the public signaling by India on other issues as well. For example, in a speech at the recently concluded Raisina Dialogue, Swaraj outlined the critical challenges that confront India as terrorism, proliferation of weapons of mass destruction (WMD), and climate change. Again, there wasn't even a hint of the potentially more serious challenges that India is facing on the international front.
On the other hand, India's concerns about China's inroads especially in the maritime domain continue to grow. Speaking at the same Raisina Dialogue, Indian Navy Chief Admiral Sunil Lanba stated that there are six to eight Chinese navy warships in the northern part of Indian Ocean at any given point of time, putting one quantitative metric down around India's rising concerns about Chinese presence in the Indian Ocean. He also supported the Quad idea, stating that it stood for inclusive, free, rules-based order. He predicted that the Quad — a grouping consisting of India, Australia, Japan, and the United States — will grow with time. Considering India's official reluctance on the Quad question, especially its military component, this was undoubtedly a surprising statement.
Lamba particularly noted the presence of Chinese submarines in the area, wondering about their use in supposed Chinese anti-piracy operations. He is not alone; the Indian Navy's worries about Chinese submarines are growing. It is about to award Cochin Shipyards a contract for building eight new anti-submarine corvettes. The Navy also just inaugurated the Information Fusion Center, based in Gurugram in the National Capital Region, to coordinate maritime intelligence with multiple countries. India has also just opened a new airbase, INS Kohasa, on the Andaman and Nicobar Islands, which host India's only triservice command center and are located at a critical spot close to Indonesia and the Malacca Straits.
There is little doubt that New Delhi is doing its best to calm the tensions in its relations with China, but there is also little doubt that the pressure on India is growing. Whether these two can be reconciled remains to be seen.