India's Not-So-Free Media
India's once-famed press is devolving into a propaganda apparatus.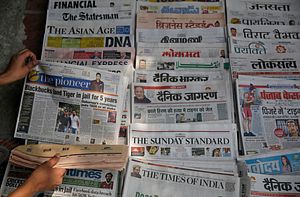 "I want this government to be criticized. Criticism makes democracy strong. Democracy cannot succeed without constructive criticism." So said Prime Minister Narendra Modi last year, well after he was swept to power in 2014 on a wave of optimism. The electoral success of Modi and his Bharatiya Janata Party (BJP) was predicated on two fundamental tenets: removing corruption and strengthening and modernizing India's democracy.
As circumstances have changed, so has the Modi government's media strategy. As Modi faces a weakened economy at home and increased communal tension across the country, the prime minister and his party moved to hijack the country's historically free press. The government has not created an official state run news service, but instead relies on independent news organizations to peddle its economic narrative, chastise a Muslim minority, and prey on Hindu anxieties in the country.
While the systematic co-optation of the country's media works in the BJP's favor as the party prepares for elections in 2019, control over the country's media is about something more sinister. Control over the nation's press is an attempt to promote a Hindu nationalist, or Hindutva, agenda across all of India's institutions. It is also an attempt to hegemonize its communal narrative in an officially secular country with a large Hindu majority.
For a long time, the BJP has promoted itself as a moderate and pro-growth political alternative to the Indian National Congress, the country's previous political heavyweight. In 2014, the BJP's focus on these principles propelled it to a historic victory.
Yet the BJP has always shared a close relationship with the Sangh Parivar, an organization of extremist Hindu groups who advocate Hindu dominance over the country's Christian and Muslim minorities. The Sangh Parivar has also served as the BJP's ideological inspiration. As the BJP's economic agenda flounders, its facade as a moderate political party that does not engage in communal politics is also unraveling. Ultimately, the Sangh Parivar seeks to achieve a Hindu India, and as the Sangh Parivar's political arm, the BJP is in a position to use the state machinery to fulfill that vision, including control over the media.
In order to achieve this, the government relies primarily on one network: Republic TV. Republic TV began in 2017 and was anchored by one of Indian media's most famous media personalities, Arnab Goswami. Republic TV appealed to the worst of the Indian media's characteristics. It was loud, brash, and theatrics mattered more than civil discourse. Take this segment for an example: Goswami begins a fiery tirade against Waris Pathan, a member of legislative assembly for the All India Majlis Ittehadul Muslimeen (India's only largescale Muslim political party) in which he attacks Pathan for refusing to stand for the national anthem. On eight separate occasions in a mere 30 seconds, Goswami yells some version of "Why can't you stand up for the national anthem?" He proceeds to claim that he knows why Pathan does not stand. Goswami's answer? According to Goswami, Pathan is an anti-national.
The term "anti-national" is a complicated term, one used to denote individuals who are perceived to be anti-Indian. Republic TV has devoted considerable amounts of airtime to debating who constitutes an anti-national. Take this clip, for instance, in which Republic TV devotes an entire segment to labeling students at Delhi's Jawaharlal Nehru University as anti-national for demanding freedom for Kashmir. For a Western audience, the term "anti-national" will be understood as a reference to those individuals who denounce a nation's constitutional principles. In India, this term has taken on an entirely new meaning. As terms and who they are ascribed upon are closely linked to who possesses power, the term "anti-national" now includes anyone who "breaks Hindu traditions," an alleged bedrock of the Indian state itself.
Goswami's primetime show has made battles on Sean Hannity's Fox News show seem tame and mild-mannered in comparison. Republic TV's popularity also forced changes in rival channels. Times Now, one of India's largest channels, began their own regular programming of jingoistic, overtly pro-BJP content. Some of its most prominent anchors regularly carry shows slanted toward BJP talking points, accusing the opposition Congress party of "Hindu-phobia" or insinuating that Congress is "weak" on Pakistan and therefore sympathetic to Pakistan's long history of state-sponsored terrorism.
While it was not uncommon for the various regional language channels to display a level of acquiescence to the government's communal narrative, recently the English-language media has also followed this prescription. India's media has historically allowed money to dictate what gets printed or broadcasted. This was hilariously demonstrated by Jason Jones of "The Daily Show" when he literally bought an article in the Mumbai Mirror claiming he was the world's best journalist.
Satire aside, a sting by the media house Cobrapost revealed that nearly two dozen media houses were willing to promote an Hindutva agenda and influence coverage for the 2019 elections. Simply put, media channels that are willing to play along find a lucrative payday and increased access by a government that refuses to hold press conferences.
On the flip side, media that is critical of the BJP becomes a target. The government has deployed tactics of fear and intimidation against opponents, often doing so through Hindu nationalist groups part of the Sangh Parivar.
The BJP's social media online troll army remains notorious. As Bloomberg noted, the troll farm, referred to as the BJP's IT Cell, regularly sends out death and rape threats to female journalists. A notable case is Barkha Dutt, who is not only viewed as being against Modi's agenda, but is one of India's only journalists who provides alternate perspectives on hotbed issues. The social media army is also used to stoke communal hatred, spread fake news, and intimidate those who would take a stand against Modi. Especially for those who belong to some of India's most marginalized communities, the IT Cell far surpasses normal levels of online toxicity, often with the encouragement of BJP leaders and the pro-Hindutva media sphere.
Using social media armies to control the public sphere is hardly the only tool the BJP-led government uses. Using allegations of "financial fraud," the government has raided channels like NDTV, a left-leaning network that took a stance against a BJP spokesman. Other journalists met a more horrific fate; Gauri Lankesh, a critic of far-right politics in India, was gunned down by a Hindutva organization by the name of Sanatan Sanstha. While there is no direct link between Sanatan Sanstha and Sangh Parivar, groups in the Sangh Parivar and Sanatan Sanstha share similar ideologies.
India's media has always been susceptible to this type of hijacking, but the BJP's success in peddling its narrative is unprecedented. The BJP's success has had an unmatched effect on the totality of India's political discourse. India's ostensibly secular discourse has endured a Hindufication, a process by which all political actors and institutions now advance soft Hindutva agendas and rhetoric. Recently, Rahul Gandhi, India's primary opposition leader, questioned Modi's Hinduism in a public appearance, asking, "What kind of Hindu is PM Modi?" Recently during a Hindu pilgrimage, Gandhi himself declared himself a Datattreya Brahmin, a clear attempt to prove to India's electorate his own status as a practicing Hindu, something that has been questioned by India's Hindus. Networks like Republic TV, which continue to devote extensive coverage to India's Hindu past, are responsible for the emergence of a nationwide soft Hindutva, a politics that demands Hindu identity to be a central pillar in all political discourse.
The fundamental tactics utilized by the BJP to influence media coverage are not themselves unprecedented; the Indian National Congress has itself engaged in such behavior. Indeed, between 1975 and 1978, the Congress government led by Indira Gandhi systematically repressed critical media as part of a nationwide Emergency. Yet today, the BJP has doubled down and transformed previously independent media outlets into state mouthpieces for the sake of minimizing criticism and disseminating their own narrative.
Despite this, some important media outlets have emerged. The Wire, for instance, has maintained excellent standards of reporting while writing about important scandals that other media networks have been intimidated to report on. In a free country, it is perfectly reasonable — though at times undesirable — for the media to have its own editorial biases. A myriad of different opinions enriches a diverse nation and strengthens democratic discourse within the institutions. However, controlling the media in order to hegemonize a Modi-Hindutva narrative does not bode well for India's democracy.
As a majority of Indians find themselves unable to relate with Modi's claims of unprecedented economic growth, the BJP (and its extrajudicial affiliates) recognizes the political need to turn toward communal politics as an election strategy; control over the media is just one way to achieve this. The north-Indian Hindu middle class remains fervently in support of both Modi and his political party, so playing on communal fears and an imagined Hindu identity is a shrewd, but sound, approach.
If the international community is concerned with the strength of India's democracy and the prospects for inclusive social and economic growth in a post-Congress India, it should challenge Modi — who has recently been chastised for his inaccessibility to the media — to abide by the visions he outlined in 2014. Ignoring what is happening with the media in the world's largest democracy is not good for Indians, Indian democracy, or liberals across the world who believe in and uphold the global liberal order.
If Modi is allowed to get away with what his party has done to India's media, there is no telling how his successor — whether from the BJP or from the Congress — will treat the country's independent press.
Aman Madan is an independent observer of politics on the Indian subcontinent. He was previously a freelance journalist for the Pulitzer Center for Crisis Reporting.