In India, the State Challenges Independent Media
India's media crackdown goes far beyond the BBC – and it is the country's independent journalists and news houses that are most vulnerable to attack.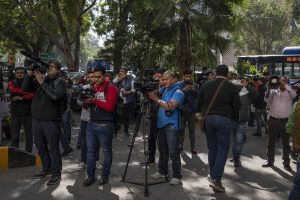 Ajay Kaushik, a cab driver in India's capital New Delhi, was watching a YouTube video about Prime Minister Narendra Modi's welcome address to the G-20 foreign ministers. The video was posted by Zee News – a media conglomerate guilty of targeting the Muslim community on multiple occasions.
Following the usual course of content disseminated by Zee, the video was full of praise for Modi. By analyzing the "body language" of G-20 ministers present at the summit, the video claimed that the summit was a success and India is emerging as a world leader under Modi's leadership.
A month before that, the Indian government directed YouTube and Twitter to take down links to a BBC documentary entitled "India: The Modi Question" by order of India's Ministry of Information and Broadcasting. The documentary revealed a never-before-published report that a British inquiry team had sent to the United Kingdom government. The report said that Modi was "directly responsible for a climate of impunity" that led to the massive violence in the 2002 Gujarat riots.
The takedown of the BBC documentary did not satiate the government. Later dozens of tax officials entered the BBC's Mumbai and Delhi offices and spent three days questioning the staff, scanning through documents and emails, and cloning staff's phones and laptops. This raid – or "survey" as the Indian authorities have labelled it – happened only weeks after the BBC released its now-banned documentary.
The BBC is not the only media outlet to have been targeted by the government for speaking truth to power. While global media organizations like the BBC survive such pressure because of their ample resources, independent media organizations and journalists in India have a harder time weathering the pressure.
Jailed Journalists
On February 2, Indian journalist Siddique Kappan walked out of prison after 864 days. He had been arrested in October 2020 while traveling to report on a rape case in Uttar Pradesh state, where a young Dalit woman had died after she was allegedly raped by four upper-caste men. His arrest was condemned by press freedom activists worldwide, who view India as becoming increasingly unsafe for journalists.
Police accused Kappan of stirring law and order issues and inciting violence under the Unlawful Activities (Prevention) Act (UAPA). The UAPA allows authorities to designate someone as a "terrorist" and detain them without producing any incriminating evidence. It has stern parameters for granting bail, which means individuals often spend months, sometimes years, in jail without committing any crime or even being found guilty.
Beh Lih Yi, the Asia program coordinator at the Committee to Protect Journalists' (CPJ), told The Diplomat that jailing journalists under the UAPA is a disturbing trend in India. "At least 11 journalists in India are currently being investigated or tried under the anti-terror UAPA," she said. Beh added that foreign and local journalists were often subject to harassment and intimidation for doing their jobs, and the worsening media censorship is putting Indian democracy at risk.
Kappan, who was released after a two-year legal battle, is not the only journalist fighting the state's institutionalized wrath. For Rana Ayyub, false cases and court summons have become a new reality. Along with the attacks that the state's institutions wage against Ayyub to silence her voice, supporters of the Modi government have often lobbed death and rape threats at her.
"I was recently asked to appear in court for an article I wrote in 2009. In 2022, the Ministry of Home Affairs asked me to provide a proof of all my income from 2006," Ayyub said. "The kind of times we live in today, anyone can file a case against you and the burden is on you, to provide sureties, to fight your cases, to hire lawyers."
She said that Siddique Kappan's "case is emblematic of the problem we face today."
Ayyub writes for The Washington Post and is the author of "Gujarat Files," a journalistic book that chronicles the heinous violence in Gujarat in the aftermath of the 2002 anti-Muslim pogrom. Following the book's release, Ayyub's life has become a court scene, where she is always laden with the burden of proof: to prove that her work is credible, to prove that her income comes through genuine sources, to prove that she is an ethical journalist, and to prove that an Indian Muslim can be patriotic.
Also combatting criminal charges are journalists such as Fahad Shah and Asif Sultan, whose crime is that they are scribes in Kashmir, talking truth in the world's most militarized zone. While Sultan, 36, has spent almost five years in prison, Shah has been held for year. Both were jailed under the UAPA for publishing "anti-national content."
State vs. Scribes
Owing to the BBC incident, recently, India's Ministry of Electronics and Information Technology published draft rules that would require intermediaries such as Twitter and Facebook to remove any post that is tagged as "fake news" by the government's information dissemination wing, the Press Information Bureau. This change to the Information Technology (Intermediary Guidelines and Digital Media Ethics Code) Rules, 2021, if accepted, could severely hurt news reporting and free speech on the internet, experts say.
In the eyes of India's Union Information and Broadcasting Minister Anurag Thakur, publications like The New York Times (NYT) "spread lies" about India. Thakur slammed an opinion piece published in NYT on the freedom of press in Kashmir as "mischievous and fictitious." He is not alone in his aversion to journalists; Modi himself has not held a single press conference during his nine-year tenure
Recently, an NYT report had also revealed that under Modi, India acquired Pegasus spyware from Israel as part of a weapons purchase agreement in 2017. The Indian government denied it bought the spyware, which was allegedly used to infect the phones of opposition figures, activists, and journalists across the country.
The Wire, Scroll.in, and AltNews, three independent media organizations, report on tough topics usually avoided by the pro-Modi media. These three organizations have two things in common: one, they undertake independent reportage, and two, they have battled state-led attacks on their journalism.
Speaking to The Diplomat, Siddharth Varadarajan, founding editor of The Wire, said, "With the coming of Modi, there is an increasing resort to criminal charges by the police around the country against journalists, editors, and publications for their reportage, their journalistic work."
At different times during Modi's tenure all three organizations have faced criminal cases and government-orchestrated raids for their investigative reportage on issues ranging from misgovernance during COVID-19 to the negative impacts of the current government's Hindu supremacist policies on India's democracy.
Amid the pressure placed on media houses and journalists, last year, the country dropped eight places in the World Press Freedom Index, compiled by Reporters Without Borders. India currently ranks 150th out of 180 countries. "The violence against journalists, the politically partisan media and the concentration of media ownership all demonstrate that press freedom is in crisis," in India, the Index found.
"These assaults on press freedom must not be condoned, otherwise India is sending the wrong signal to the world in the year that the country chairs the G-20," said Beh of the CPJ. "As the world's largest democracy, India must realise a free press is the foundation of a functioning democracy and stop treating journalism as a crime."
India's Internet Shutdowns
Besides pressuring media outlets, India often resorts to an even more draconian measure: shutting down the internet entirely. Since 2016, according to the Shutdown Tracker Optimization Project (STOP database), India has accounted for approximately 58 percent of all internet shutdowns.
When it comes to shutting down the internet to restrict communications, India has also beaten Ukraine – a country at war for over a year now. According to Access Now, a global digital rights group and the #KeepItOn coalition, India implemented at least 84 shutdowns in 2022, the most of any country.
"According to CPJ's data, India again topped the 2022 list with the highest number of internet shutdowns ordered by the authorities," Beh confirmed.
To understand the dangers that internet shutdowns pose for a democracy like India, The Diplomat also spoke to Daniel Bastard, head of the Asia-Pacific Desk for Reporters Without Borders. He called India "the world's champion for Internet shutdowns."
"We can trace this back at least since the months-long blockade on communications in West Bengal's Darjeeling district in 2017, or history's longest ever e-curfew that people in Jammu and Kashmir had to cope with following the revocation of article 370. Trying to prevent Indian citizens from accessing independent information has now become a pattern in Narendra Modi's government," he said.
Bastard said such actions by the government showed that there was clearly a will to control not only the flow of information, but also the content. "It means journalists are not allowed to tackle certain issues, or they will face repercussions, including judicial harassment and arbitrary detention," he said. "As such, Narendra Modi's government poses an obvious threat to the practice of free, independent and pluralistic journalism."
Bastard remarked that the blatant censorship of the BBC documentary clearly confirmed a tendency Reporters Without Borders has identified for a few years now: the total intolerance of the current government toward any form of criticism in the media. This tendency, he said, was all the more worrying since the vast majority of mainstream media in India is now owned by businessmen who are close allies of Modi – as the recent takeover of NDTV shows.
"On top of this, independent journalists have often faced dreadful cyber harassment campaigns orchestrated by pro-Modi trolls and/or the BJP IT Cell. The war of the current government against independent media is raging on many fronts," he said.
The end result is that ordinary Indians have only the glowing coverage of the likes of Zee News with which to try and make sense of current events.