More China Battle Tanks for Thailand?
Reports of a new order have once again put the spotlight on rising defense cooperation between the two countries.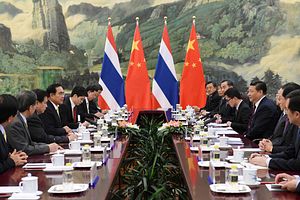 Last week, reports surfaced that Thailand was planning a new order of Chinese battle tanks. While the reports were far from surprising given Bangkok's long-held needs and existing collaboration between the two countries, they nonetheless once again put the spotlight on ongoing Sino-Thai defense cooperation, which has been on the uptick in recent years under the junta-led government.
As I have noted before in these pages, while security collaboration between China and Thailand, a U.S. treaty ally, has long factored into their wider bilateral relationship, the rising defense cooperation between the two countries in the past few years has nonetheless been quite striking. Over the past few years, the defense aspect of Sino-Thailand relations has seen some notable developments, including an air force exercise, planned purchases of equipment, and even discussions of a joint military production facility.
One of the manifestations of this has been Thailand's purchase of tanks from China. Bangkok has been looking to replace some of the old tanks it bought from the United States, and following evaluations of its options under the junta government and some problems with deliveries from Ukraine, it has decided to consider buying tanks from China, with the initial contract between the Royal Thai Army (RTA) and China North Industries Corporation (NORINCO) for the MBT-3000 main battle tank reportedly featuring 28 units valued at $150 million back in 2016.
Since then, reports have surfaced about additional orders as well. Thai officials have indicated that money had already been set aside over the next few years to buy tanks, auxiliary vehicles, and other related defense equipment from China, even though there have been variations on the exact number of items eventually purchased.
Last week, reports surfaced that Thailand was now eyeing what was characterized as a third batch of V-4 battle tanks from China, following the previous batches gotten in 2016 and 2017. The reports of a potential new purchase from Bangkok came following scheduled talks held in early January between RTA commander-in-chief Apirat Kongsompong and Chinese defense officials, including Defense Minister Wei Fenghe and Han Weiguo, the commander of the People's Liberation Army.
According to the reports, which first appeared in The Bangkok Post on January 14, an anonymous army source affiliated with the procurement committee said that approval was being sought for the purchase of 14 tanks at the cost of more than 2.3 billion baht ($72 million).
The report itself comes as no surprise given that officials had previously suggested that more tanks were to be bought. How exactly this plays out, however, remains to be seen. The Bangkok Post subsequently reported a source as saying that General Wijak Sribansop, the chairman of the procurement panel, would leave for China in late February to test the tank's performance, before the procurement proposal is officially forwarded over to the cabinet in March. While that schedule could well be realized, we have seen some previous cases where the military's initial requests have not entirely materialized or have been delayed. The potential holding of elections this year in Thailand also adds some additional uncertainty into the mix.
Nonetheless, the reports serve as a further indication that the Sino-Thailand defense relationship is set to continue over the next few years. As this process occurs, how exactly this manifests into tangible cooperation will continue to be interesting to watch.