Singapore's Naval Modernization in Focus With New Warship Launch
Singapore celebrated the eighth and final launch in an initial batch of locally-built warships.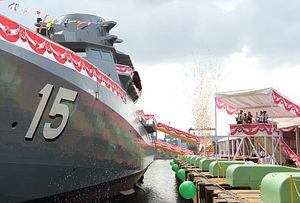 Over the weekend, Singapore launched the last in an initial batch of eight new locally built and designed warships. The vessel, unveiled at a ceremony attended by a Singapore officials and defense personnel, represented another step forward for what the country considers a key line item as part of its ongoing naval modernization.
As I have been noting in these pages, one of the many manifestations of the modernization of the Republic of Singapore Navy (RSN) has been the replacement of its existing fleet of Fearless-class patrol vessels, which have been in service for over two decades, with locally built and designed Littoral Mission Vessels (LMVs) that represent a marked improvement over their predecessor.
Specifically, the Singapore government has previously characterized the LMVs as being "smarter, faster, and sharper" relatively speaking. As I have also observed previously, the vessels are also advanced technologically, efficient in terms of manpower, and have the versatility to deal with a wide spectrum of challenges, ranging from counterpiracy to humanitarian assistance and disaster relief operations (See: "What Do We Know About Singapore's New Warship?").
Since then, we have seen these vessels gradually introduced over time. Thus far, five LMVs –RSS Independence, RSS Sovereignty, RSS Unity, RSS Justice, and RSS Indomitable – have been commissioned and have been involved in several exercises, including the first-ever ASEAN multilateral naval exercise held in Thailand in 2018. Two other LMVs – RSS Fortitude and RSS Dauntless – were launched in 2018 and are currently undergoing sea trials, with an expectation that they will be commissioned later this year.
On January 26, the program was in the spotlight again with the launching of the eighth and final LMV. The vessel, Fearless, which bears the name of the current fleet it is replacing, was launched at ST Engineering's Benoi Shipyard in a ceremony officiated by Senior Minister of State for Defense Heng Chee How and attended by other Singaporean officials and personnel.
In his remarks at the ceremony, as he and others have done previously, Heng framed the new vessels' launching within the broader perspective of the importance of a strong navy for Singapore' security and sovereignty and the protection of the Singapore people and their way of life.
Moving forward, the launch of the Fearless is expected to be followed by a number of other markers for the LMV program's development, including the commissioning of the remaining three LMVs. At this time, Singapore's target continues to be for all eight LMVs to be fully operational by 2020.