US State Department Approves $2.15 Billion Aegis Ashore Sale to Japan
The two new Aegis Ashore batteries are expected to become operational by 2025.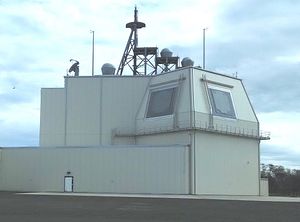 The U.S. Department of State approved the possible sale of two Aegis Ashore batteries,  the land-based variant of the Aegis combat system for defense against ballistic and cruise missiles, to Japan for an estimated $2.15 billion, the Pentagon's Defense Security Cooperation Agency (DSCA) said in a January 29 statement. The foreign military sale is still subject to congressional approval.
In addition to the two Aegis batteries, the sale will include two multimission signal processors, two command and control processor refreshes, radio navigation equipment, naval ordnance, two identification friend or foe systems, global command and control system-maritime hardware, and two inertial navigation systems.
"This proposed sale will provide the government of Japan with an enhanced capability against increasingly sophisticated ballistic missile threats and create an expanded, layered defense of its homeland," the January 29 statement reads. "Japan, which already has the AEGIS in its inventory, will have no difficulty absorbing this system into its armed forces."
The Aegis Ashore sites will be capable of firing the SM-3 Block IIA/Block IB interceptors as well as the supersonic SM-6 missile interceptor. SM-6 interceptors are not expected to be procured by Japan until the end of the 2020s, according to the latest Japanese defense budget documents. The Japanese Ministry of Defense plans (MoD) to arm each Aegis Ashore battery with around 24 SM-3 Block IIAs or Block IBs.
Notably, Japan has selected the Lockheed Martin Solid State Radar (SSR) for the two Aegis Ashore sites.
The Japanese MoD plans to deploy the two Aegis Ashore batteries by 2025 to supplement its PAC-3 Patriot batteries capable of engaging short- and medium-range ballistic missiles in their terminal phase and the Japan Maritime Self-Defense Force's (JMSDF) fleet of Aegis-equipped guided-missile destroyers, four of which are currently operationally deployed.
The two Aegis Ashore weapons systems are expected to be stationed in Japan's Akita and Yamaguchi prefectures.
The U.S. Department of State approved the sale of eight SM-3 Block IB missiles and 13 SM-3 Block IIA missiles for an estimated cost of $561 million in November 2018. In January 2018, the U.S. State Department also approved a potential sale of four SM-3 Block IIA missiles to Japan for an estimated cost of $133.3 million.
Total acquisition and deployment costs for the two Aegis Ashore batteries will likely exceed $4 billion. In addition, maintenance and operational costs are estimated at around $4.18 billion over 30 years, according to the Japanese MoD.
The U.S. Missile Defense Agency (MDA) and U.S. Navy last successfully conducted an intercept of an intermediate-range ballistic missile target with a SM-3 Block IIA missile on December 11. The missile has been under joint development by U.S. defense contractor Raytheon and Japan's Mitsubishi Heavy Industries since 2006.
Japan's Defense Minister Takeshi Iwaya, like his predecessor, visited a U.S. Department of Defense Aegis Ashore test site on Kauai island, Hawaii earlier this month.
"I am convinced that introducing Aegis Ashore will strengthen our defense capabilities against a missile attack," Iwaya was quoted as saying on January 20 by The Japan News. "We will steadily proceed with the introduction of the system."