Afghanistan Rebukes Pakistan Ambassador for Linking India and Taliban Talks
Pakistan's ambassador to Afghanistan implied ongoing tensions between New Delhi and Islamabad could spill over.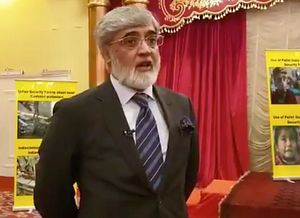 Pakistan's ambassador to Afghanistan was summoned by the Afghan Ministry of Foreign Affairs following remarks in which he implied that any Indian retaliation over a recent attack in Kashmir would result in the derailment of ongoing international talks with the Afghan Taliban.
Zahid Nasrullah, the Pakistani ambassador, noted on Tuesday that Pakistan had influence over the Taliban and that escalation between India and Pakistan could reverberate across the region, including in Afghanistan. "Since the development is so momentous that it can affect the stability of the entire region," Nasrullah said, according to Afghanistan's Tolo news agency.
"Afghanistan peace talks would be affected if India resort to violence against Pakistan," he had added, according to an Afghan Ministry of Foreign Affairs statement citing Nasrullah's comments.
"Pakistan is making a very major effort, playing its key role which is being recognized internationally. But it is a shared responsibility. Everyone has a responsibility towards it and Pakistan has a limited role in that, but what limited role we have, we are playing that. We also have a limited influence. So expect Pakistan deliver on each and every account I think is not reasonable. Yes, we believe that it has to be intra-Afghan talks that is where all issues will be decided," he added.
"We have always said that we have influence — but limited influence — on the Taliban, and we would use that to the best effect. We are working sincerely on that," Nasrullah had said. Nasrullah was appointed Pakistan's ambassador to Afghanistan in 2017.
His statements come after an attack on February 14 in India-administered Kashmir's Pulwama district killed more than 40 Indian paramilitary personnel. The attacker had claimed allegiance to the Pakistan-based terror group Jaish-e-Mohammed, which has been held responsible by India for a number of attacks on its territory over the years.
Following the attack, Indian Prime Minister Narendra Modi pledged retaliatory action, saying that the attackers would "pay a very heavy price for their actions."
The Afghan Ministry of Foreign Affairs rebuked the Pakistani envoy's statement, noting that it "once again calls on Pakistan to act upon its commitments with regards to Afghanistan, particularly those in relation to peace and refrain from making irrelevant statements that do not help solve any problem."
Afghanistan "has always wanted a reduction in any tension in the region, and the differences to be resolved through dialogue and peaceful means," the statement from Kabul added.
Talks have been ongoing for weeks between the United States and the Afghan Taliban concerning a potential U.S. withdrawal from the country and a political reconciliation process that would see the group brought into the political fold in Afghanistan.
The United States is also reportedly seeking assurances from the Taliban that it would no longer support or give refuge to terror groups that may seek to conduct attacks against the United States. The former Taliban government, which harbored Al Qaeda and its leader, Osama bin Laden, was removed from power in Afghanistan by the U.S. invasion of the country in 2001.
Following the Pulwama attack, India's Ministry of External Affairs issued a statement blaming Pakistan for harboring Jaish-e-Mohammed. "We demand Pakistan to stop misleading the international community and take credible and visible action against the perpetrators of Pulwama terrorist attack and other terrorists and terror groups operating from areas under their control," the Indian statement noted.