Brexit on the Brain as Germany's Chancellor Comes to Japan
Trade issues – including the UK's looming departure from the European Union – topped the agenda for Angela Merkel in Japan.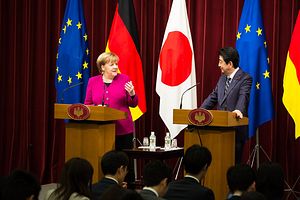 During her first visit to Japan in two-and-a-half years, German Chancellor Angela Merkel called for a "creative" solution to the impasse over the United Kingdom's exit from the European Union.
Merkel's visit was intended to showcase the entry into force of the Japan-EU Economic Partnership Agreement (EPA), but the uncertainty surrounding Brexit loomed as a significant issue during the talks with Japanese Prime Minister Shinzo Abe in Tokyo on February 4.
Officials in Tokyo have grown increasingly concerned about the potential disruption to Japanese businesses operating in the U.K. and Europe should there be a disorderly split. Abe, who in recent months has repeatedly called for a no-deal Brexit to be avoided, told Merkel that such an outcome had the potential to hit global economic growth.
At a joint media conference with Abe after their talks, Merkel argued that there were "definitely options for preserving the integrity of the single market even when Northern Ireland isn't part of it" while seeking to avoid border controls along the Irish border. Ireland is an EU member while Northern Ireland, part of the U.K. will soon be withdrawing from the European bloc.
"To solve this point you have to be creative and listen to each other, and such discussions can and must be conducted," Merkel said, as per a Reuters report. She argued there was still time to reach agreement between the EU and U.K. "if everyone shows goodwill."
On the broader issue of trade and economic ties, Merkel and Abe were eager to display their unity. Merkel was the first European leader to visit Japan after the entry into force of their trade pact on February 1.
Abe and Merkel welcomed the entry into the force of the Japan-EU EPA and "confirmed that they would further deepen their bilateral economic relations within the world's largest zone of free developed economies," said a summary issued by the Japanese government. They agreed that Japan and Germany would cooperate on "maintaining and strengthening a free and open economic system" including World Trade Organization reform.
During a speech to a business forum on February 5, Merkel characterized the EPA's entry into force as a highly significant development. She said it was "not just some little agreement – it opens up genuinely new opportunities for both sides." The area covered by the agreement, she continued, "is home to almost 600 million people and accounts for almost 40 percent of global trade."
Merkel's visit reflects the importance Berlin places on closer ties with Tokyo at a time of global uncertainty. During a visit to Japan in July last year, German Foreign Minister Heiko Maas said the two countries had the potential to be "at the heart of an alliance of multilateralists" amid "huge upheavals" in the world.
This week, Abe argued that Japan and Germany had "an ever-growing role to play in the world amid widening protectionist movements worldwide and as the United Kingdom heads towards withdrawal from the European Union." Abe called for the elevation of the Japan-Germany partnership "to greater heights towards achieving a rules-based international order and world prosperity."
The summit meeting also foreshadowed closer security cooperation, with Japan and Germany reaching agreement in principle on information security deal. This is expected to allow for the exchange of classified information to tackle common issues such as terrorism, Kyodo News reported. Merkel remarked that the agreement would assist with cybersecurity cooperation.
Abe and Merkel also discussed plans to work together to ensure the success of the G-20 summit to be held in the Japanese city of Osaka in June. The German leader was granted an audience with Emperor Akihito, her third such meeting, ahead of his abdication in April this year. The German government readout described this as "a very special honor."