How China Came to Dominate South Sudan's Oil
China's appetite for risk-taking cemented its presence in the conflict-torn young country.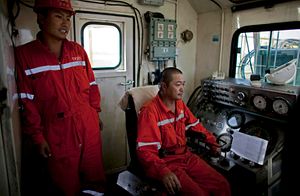 Few countries would look at South Sudan as an ideal location for a business venture, but China has built much of its reputation as a world power on an economic philosophy of risk-taking. South Sudan also offers a lucrative opportunity for entrepreneurs intrepid enough to take it: the East African country boasts 3.5 billion barrels' worth of crude oil in proven reserves, and petroleum geologists will likely find more in the two-thirds of South Sudan that they have yet to explore. Despite the challenges of working in a war zone, China dominates what analysts have assessed as the third largest oil reserves in Africa.
"Even before South Sudan became independent in 2011, China had a monopoly on the oil sector in Sudan," Dr. David H. Shinn, a former American ambassador to Burkina Faso and Ethiopia and an adjunct professor of international affairs at the George Washington University, told The Diplomat. "This monopoly continued in independent South Sudan. While oil companies from other countries considered entering South Sudan, a combination of corruption and civil conflict kept them out."
China first decided to enter the petroleum industry in Sudan in 1995, 16 years before South Sudan gained independence and right in the middle of the Second Sudanese Civil War. The United States' economic sanctions on Sudan, which faced accusations of committing war crimes at home and supporting terrorism abroad, did little to deter Chinese companies eager to take advantage of Sudanese oil reserves.
Much of China's success in Africa comes from the world power's tendency to avoid criticizing allies who ignore human rights and international law. This approach to foreign policy underpins the Belt and Road Initiative, a project designed to expand China's sphere of influence in the Global South. The South Sudan–China Friendship Association, whose board includes former South Sudanese foreign and interior ministers, has promoted the ambitious Chinese endeavor on Twitter.
"Africa represents a crucial component of the Belt and Road Initiative," Dr. Suisheng Zhao, a professor of international studies at the University of Denver, told The Diplomat. "China's goals in Africa primarily consist of acquiring natural resources, gaining access to regional markets, and outcompeting the United States and Japan on the continent, all of which have led China to South Sudan."
When Sudan and the Sudan People's Liberation Army, or SPLA, brought an end to the Second Sudanese Civil War with the Comprehensive Peace Agreement in 2005, China realized that the majority of Sudan's oil reserves fell into what would become South Sudanese territory. As early as 2011 — the year of South Sudanese independence — the China National Petroleum Corporation, or CNPC, established an office in the South Sudanese capital of Juba. While the outbreak of the South Sudanese Civil War in 2013 forced CNPC to evacuate the office, the company was operating there again just one year later.
"China's strategy in Africa has included a willingness to enter countries that Western companies consider too risky," observed Zhao, editor of China in Africa: Strategic Motives and Economic Interests. "That said, Western companies avoid South Sudan for good reason, and China is learning these lessons the hard way. China's successes and failures in South Sudan are the result of this risk-taking."
The South Sudanese Civil War has forced China to deal with a variety of economic and military dilemmas. The conflict has halved the extraction of petroleum, hurting CNPC's bottom line. The fighting also presents a risk to the safety of CNPC employees. Sectarian violence in South Sudan resulted in the deaths of 14 Chinese oil workers in just one day last year. China had hoped to prevent such a scenario by deploying its soldiers to oil fields in 2014, but this move came with its own risks. Two soldiers died in 2016, and Chinese peacekeepers engaged in a standoff with South Sudanese rebels in 2018.
South Sudan's history of political stalemates has further constrained opportunities for China there. The year before the South Sudanese Civil War even began, South Sudan cited a geopolitical conspiracy as its reason for expelling Liu Yingcai, the head of the consortium PetroDar Operating Company.
"At some point, there could also be new leadership in South Sudan that is less attached to China's role — as was the case when the SPLA was fighting the government in Khartoum," explained Shinn, co-author of China and Africa: A Century of Engagement. "Having said that, China has been notably successful at shifting from one set of political circumstances to another in both Sudan and South Sudan."
If China's ambitious gamble in South Sudan succeeds, the world power stands to reap diplomatic and economic benefits. In August 2018, CNPC inked an agreement with the South Sudanese Petroleum and Mining Ministry to conduct hydrocarbon exploration in the heart of the country, outdoing French and Kuwaiti competitors. Given that South Sudan depends on petroleum for 98 percent of its budget, China also enjoys more than enough leverage to bring the East African country into its sphere of influence. The return of peace to South Sudan could yield exceptional profits for its Chinese benefactors.
"China wants to retain its substantial petroleum investment in South Sudan to take advantage of current oil production and on the assumption that better days will come," Shinn told The Diplomat. "When that happens, Chinese companies will be well placed to develop new oil fields in the country. This is part of China's long-term strategy even if it means tolerating short-term losses."
The Chinese willingness to invest in war zones may start paying dividends this year. South Sudanese President Salva Kiir and Riek Machar, leader of the Sudan People's Liberation Movement in Opposition, signed a peace treaty last July. They have since been coordinating its implementation.
CNPC has benefited from the South Sudanese Civil War in that the long-running conflict deterred the state-owned enterprise's competitors from even thinking of touching the market. Now that the largest faction of South Sudanese rebels is committing itself to reconciliation, CNPC stands to gain even more. Even so, this success depends on the longevity of peace in South Sudan, where other factions continue to rebel against Kiir. Some observers also question the viability of the deal between him and Machar, given that a 2016 agreement only managed to stop the South Sudanese Civil War for a few months.
"The South Sudanese Civil War has damaged China's national interests by presenting a barrier to Chinese influence in South Sudan," noted Zhao. "This lack of political stability is undermining China's strategic objectives. China will only stay invested in South Sudan as long as operations there continue to make economic sense. Moreover, the safety of local Chinese workers cannot be guaranteed."
To keep China in South Sudan for good, Kiir and Machar will need to ensure that their militias refrain from the kind of political and sectarian violence that has long wracked their homeland.
"Although China continues to extract and purchase most of South Sudan's oil, it has been at a high political and economic cost," said Shinn. "If South Sudan's civil conflict continues for too long or becomes more disruptive in oil-producing areas, even China may lose patience and pull the plug."
Austin Bodetti studies the intersection of Islam, culture, and politics in Africa and Asia. He has conducted fieldwork in Bosnia, Indonesia, Iraq, Myanmar, Nicaragua, Oman, South Sudan, Thailand, and Uganda. His writing has appeared in The Daily Beast, USA Today, Vox, and Wired.