Sri Lanka: Caught in an Indo-China 'Great Game'?
A blueprint for Sri Lanka's foreign policy.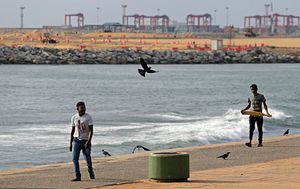 Competition is a natural byproduct of major powers navigating an anarchic world. Small states operating in such a milieu, however, face a policy dilemma when strategizing their foreign policy. Sri Lanka, sitting in the epicenter of the arc connecting the Persian Gulf to the Strait of Malacca, has captured international attention as a key battleground between Beijing and New Delhi in their tussle for influence in South Asia. While some scholars argue that the island is a personification of China's "debt trap diplomacy," others contend that it should not be a poster child of falling into a Chinese "debt trap," as debt to China is less than 15 percent of Sri Lanka's total external debt.  
Concerns over Sri Lanka's sovereignty have been rife following the $1.12 billion debt-to-equity swap that saw Hambantota port handed over to China and the proposed lease of the Mattala International Airport to India. Sri Lanka is in no position to break off economic ties with either power. According to Chinese Ambassador to Sri Lanka Cheng Xueyuan, by the end of 2017 Chinese companies had completed infrastructure projects in Sri Lanka worth $15 billion. Meanwhile, April 2017 saw India agree to refurbish and use 99 oil tanks in the Trincomalee harbor in Sri Lanka as a joint venture between the Lanka Indian Oil Corporation and the Ceylon Petroleum Corporation. A $2.6 billion pledge for development projects in Sri Lanka in 2016 as well as bilateral naval exercises with New Delhi evince the close relationship between the two countries. Consequently, maintaining close diplomatic and economic ties with both Asian powerhouses is imperative for Sri Lanka.
Be that as it may, a geopolitical rivalry between the two may have lasting ramifications on the island if Sri Lanka makes a false step. How can small states such as Sri Lanka, caught in the currents of a major power competition, safeguard their security and autonomy while reaping economic benefits? This article suggests seven steps that Sri Lanka — and other small states — can take in order to carefully navigate a major power rivalry in the maritime domain.   
First, it is in Sri Lanka's best interests to devise a bipartisan foreign policy white paper. What are the expected dividends from a foreign policy white paper? Analysts maintain that the National Unity Government of Sri Lanka has been ad hoc in its decision-making, which has led to the execution of suboptimal policy choices. It is imperative that before foreign projects are implemented, unbiased and comprehensive investigations are carried out to assess how they could impact Sri Lanka in the security, economic, and ecological domains. In tandem, diplomatic support for a rules-based maritime order and a foreign policy white paper (which is in essence a fundamental expression of national policy), could establish consistency and continuity in Sri Lanka's foreign policy regardless of the regime that comes to power. Not only would it boost investor confidence, guide the island toward utilitarian preferences, and establish stable relations with major powers but it would also significantly ease the workload of the island's diplomatic staff when engaging with major powers.
Second, a foreign policy white paper needs to be coupled with a defense white paper. As major power interest has shifted to Sri Lanka, it is imperative that local policymakers adequately calculate the risks and benefits involved in economic, military, and diplomatic relations with major powers operating in the Indian Ocean. A defense white paper would outline the broad strategic policy framework for defense planning and sketch the key defense priorities for Sri Lanka. It can also be viewed as a confidence – and security – building measure, which increases transparency not only in the domestic context, but also internationally. This would ensure that Sri Lanka's foreign policy intentions and actions are not misinterpreted by major powers operating in South Asia. It would also permit the institutionalization of a balanced and utilitarian foreign policy without arousing the apprehension and mistrust of major powers or forgoing core national interests of the island.
Next, a five to ten year medium-term plan on infrastructure priorities and bipartisan consensus on how to expand exports is vital for Sri Lanka. As indicated by a former deputy governor of the Central Bank of Sri Lanka, the island must "beat the middle income trap through a viable export development policy." For this purpose, pursuing free trade agreements with China and India is an advantageous and viable strategy of export led growth, which has unfortunately stalled owing to public protests.
Importantly, misinformation needs to be more firmly tackled. An effective government communication strategy and greater transparency are essential to ensure the local population understands the benefits expected and accrued from international engagements with major powers. Moreover, in the words of one analyst: "the next leader needs to invest in institutionalizing the foreign policy of Sri Lanka rather than persisting with the overly personalized foreign policy which exists today and has [been] followed by many others in the past."
Sri Lanka stands to benefit from China's Belt and Road Initiative (BRI). However, when approving or implementing BRI projects, policymakers must verify whether Sri Lanka's interests are met and ensure that the island's security, economy, society, or ecology are not adversely impacted. A multi-actor approach of pooling together resources from universities, nongovernmental agencies, and civil society groups could be recommended as a way in which haphazard and extemporaneous decisions could be avoided. Utilizing a multi-actor approach, foreign policy decision-makers would be better able to determine the parameters or boundaries of what is, or is not, a part of the security and economic dynamic at a particular time. This process would also enable decision-makers to utilize multidimensional perspectives in academic and institutional networks so that the positive and negative externalities of pursuing a particular course of action are better understood. Such foresight in tandem with project feasibility studies would allow for a better-judged decision, which in turn will have greater chances to benefit the country in the short and long term.
While prioritizing economic diplomacy, Sri Lanka must also take steps to make clear that investments and projects on the island's territory do not function as the exclusive "preserve of one country."
Lastly, leaders must keep in mind that policy uncertainty could ward off potential future investments and exacerbate geopolitical anxieties. Critical and objective reflection as well as informed decision making is of utmost importance for Sri Lanka. These features were clearly absent in the National Unity Government's policy making process (the National Unity Government since 2015 encompassed two major political opponents – the United National Party and the Sri Lanka Freedom Party). Instead, policy making tended to be unwieldy, dysfunctional and at times, seemingly erratic. Therefore, policy alignment, bipartisan consensus, and clearly divided remits are essential if politicians wish to enter into Grand Coalitions. Whenever differing positions are adopted by the prime minister and president, corrective action needs to be taken in order to bring these alternative views to a common and authoritative statement of policy.
Mr. Shakthi De Silva serves as a Visiting Lecturer in the Bandaranaike Diplomatic Training Institute. He has published widely including in South Asian Survey, the Global–E journal of the University of California, and the London School of Economics South Asia Blog.