US Navy Christens Most Advanced Attack Sub Ever
The U.S. Navy's newest Virginia-class nuclear attack submarine was christened on October 14.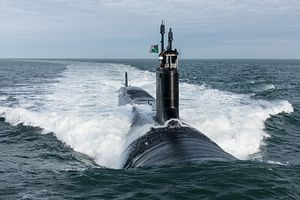 The U.S. Navy has christened its latest Virginia-class nuclear attack submarine, the future USS South Dakota, during a ceremony at General Dynamics Electric Boat Shipyard in Groton, Connecticut, the service reports.
The South Dakota is the 17th Virginia-class attack submarine and the seventh Virginia-class Block III submarine. According to Kris Osborn over at Scout Warrior, the South Dakota is the most technologically advanced nuclear attack submarine ever developed by the U.S. Navy. It reportedly features a host of technological innovations including quieting technology for the engine room, quieting coating materials for the sub's hull, and a new large vertical array.
These new technological insertions are all build around the U.S. Navy's concept of "acoustic superiority" to make the submarine stealthier while conducting operations. A heavy focus is reportedly being placed on the development passive acoustic sensors to detect enemy submarines at longer distances. (The U.S. Navy has also been working on active sonar technology to be fitted on undersea drones for early detection enemy undersea movement.)
The new sub has been a "technology demonstrator to prove out advanced technologies," Naval Sea Systems Command Spokeswoman Colleen O'Rourke told Scout Warrior. "Lessons learned from South Dakota will be incorporated into Block V and later Virginia Class submarines, increasing our undersea domain advantage and ensuring our dominance through the mid-century and beyond," O'Rourke added.
The future South Dakota will be a Virginia-class attack Block III  submarine fitted with the so-called Virginia Payload Modules (VPM) – larger tubes that increase the ship's missile payload designed to lower costs (See: "US Subs Getting Fire Power Boost"). As I explained previously:
While the first 10 Block I and Block II Virginia-class submarines feature 12 individual 21-inch diameter vertical launch tubes able to fire Tomahawk Land Attack Missiles (TLAMS), "the Block III submarines are built with two-larger 87-inch diameter tubes able to house six TLAMS each," according to the U.S. Navy website. The new 87-inch tubes have been designed to accommodate future missile systems in addition to the Tomahawk.

In addition, Virginia-class Block III boats are equipped with four torpedo tubes for MK48 torpedoes. Furthermore, next to a redesigned bow, Block III Virginia-class boats also contain "a water-backed Large Aperture Bow (LAB) sonar array that replaces the air-backed sonar sphere found in the first 10 Virginias." This, in combination with the its so-called fly-by-wire capability, enables the boat to perform important intelligence and surveillance missions.
The U.S. Navy commissioned the Virginia-class nuclear attack submarine USS Washington (SSN-787), the 14th sub of the Virginia-class sub this month. In September, the U.S. Navy accepted delivery of the 15th Virginia-class sub, the USS Colorado (SSN-788). The U.S. Navy plans to commission a total of 51 Virginia-class attack submarines in total.