Why Speaker Pelosi Should Invite President Tsai Ing-wen Before Congress
And why that invitation should signal a US policy change toward normalization.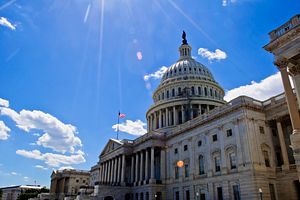 On February 7, a group of five key U.S. senators wrote a letter to newly-elected Speaker of the House Nancy Pelosi, urging her to invite President Tsai Ing-wen of Taiwan to address a joint session of Congress in the near future.
The five senators, Cory Gardner (R-CO), Marco Rubio (R-FL), Tom Cotton (R-AR), John Cornyn (R-TX), and Ted Cruz (R-TX), in particular focused on the fact that 2019 marks the 40th anniversary of the 1979 Taiwan Relations Act, which constitutes the basis for the current unofficial relationship with Taiwan.
The senators emphasized that the 1979 U.S. decision to establish diplomatic relations with the People's Republic of China (PRC) "rests upon the expectation that the future of Taiwan will be determined by peaceful means." They then outlined how – in particular since Tsai's 2016 election to the presidency – the PRC has "continued to escalate its rhetoric and actions that threaten Taiwan's democracy and sovereignty."
The senators specifically mentioned the fact that since Tsai's May 2016 inauguration, Beijing has pressured five nations to withdraw diplomatic recognition from Taiwan, and that in his New Year's message in early January 2019, PRC President Xi Jinping would not rule out the use of force to "re-unify" China and Taiwan.
The senators highlighted the near-unanimous support for Taiwan that has existed in Congress since the passage of the TRA, as exemplified by the passage of the Taiwan Travel Act and the Asia Reassurance Initiative Act in 2018, and urged Pelosi to extend an invitation to Tsai, whom they describe as "a genuine democratic leader engaged in a struggle against an authoritarian and oppressive system that seeks to deny the Taiwanese people democratic rights and fundamental freedoms." 
The senators stated that they understand that "the honor of addressing a joint address to Congress is generally reserved for recognized heads of state," while the United States does not officially recognize Taiwan's government. However, they added that:
[T]here is also clear precedent for inviting prominent democratic leaders: On November 15, 1989, Lech Walesa addressed a joint session of Congress as chairman of the Solidarity movement. On June 26, 1990, Nelson Mandela addressed a joint session of Congress as deputy president of the African National Congress.
They concluded that "Extending an invitation for President Tsai to address a joint session of Congress in this historic year for U.S.-Taiwan relations would send a powerful message that the United States and the American people will always stand with the oppressed, and never the oppressor."
The letter raises two questions: why now and what next?
On the "why now?" question, part of this was addressed by the senators' letter: the increasing belligerence of the PRC vis-à-vis Taiwan. Since its transition to democracy in the early 1990s, Taiwan has morphed into a vibrant democracy that obviously doesn't want to be incorporated by China, and Beijing has been punishing Taiwan for that.
This belligerence is playing out in a number of very public ways: pilfering diplomatic allies, blocking Taiwan's international space, and circumnavigation flights threatening Taiwan's sovereignty. To the close observer, it is obvious that China is not abiding by the agreements made under the Three Communiques (1972, 1978, and 1982) to pursue a solution by peaceful means; it is attempting to push Taiwan into a corner so it has no choice.
Another aspect of"why now" is that it is becoming increasingly apparent that Taiwan in 2019 is very different from Taiwan in the 1970s, when the United States' current "One China" policies were devised. At that time, the Western response to the perpetuating struggle for power and influence between Mao Zedong's Communists in Beijing and Chiang Kai-shek's Nationalists nestled in Taipei was to recognize only one of them as the "government of China." Thus the UN "China seat" shifted to Beijing in 1971, and formal U.S. diplomatic recognition shifted at the end of 1978.
However, a very different picture emerged in the early 1990s, when Taiwan made its momentous transition to democracy. While for a number of reasons beyond its control, Taiwan is still stuck with the "Republic of China" shell imposed on it by the Chinese Nationalists, in practice it has made a very fundamental transition to a new identity: a free and democratic Taiwan.
The problem is that the policies of the United States, Western Europe, and other democratic nations such as Australia, Japan, and India have not caught up with that very fundamental transition on the ground in Taiwan. U.S. policy, as well as those of the EU and European countries, still have their foundations in the fundamentals laid down in the 1970s. The United States and Europe may applaud Taiwan for its democracy, but their antiquated policies are still stuck in the 1970s.
And that brings us to the "what next?" question: Yes, it would be excellent if Pelosi would follow up on the suggestion of the five senators to invite Tsai to address a joint session of Congress, for instance on April 10, 2019, the 40th anniversary of the Taiwan Relations Act becoming U.S. law. And by the way: it would be good if a few Democratic senators would sign on to the initiative, so it is truly a bipartisan effort.
But even more importantly, it is essential that the invitation be accompanied by a signal from the U.S. government that it feels the time is ripe for a policy change. The fundamental change in Taiwan's character from a rear-guard claimant to sovereignty over China to fully free democracy should prompt a reassessment in the direction of normalization of relations.
Taiwan and its people are for all intents and purposes a responsible stakeholder in the international community. The only two factors holding it back are the West's outdated policies, and of course the PRC's threat to use force.
A new policy by the United States, Western Europe, and other like-minded nations should thus incorporate two aspects:
First, convincing China that peace and stability across the Taiwan Strait can only be achieved if China accepts Taiwan as a friendly neighbor. Current Western policies only emphasize "dialogue" between the two sides, and "a peaceful resolution." This proposal suggests that the West needs to go a step further and urge acceptance of Taiwan as is, and that perpetuation of the current zero-sum strategy of military, economic, and political pressure is not conducive to cross-strait relations.
Second, taking account of the fundamental fact that Taiwan of 2019 is very different from the ROC in 1971, the United States and other nations need to reimagine their Taiwan relations and start the process towards normalization of relations. We need to bring Taiwan in from the cold of its current diplomatic isolation, look at the country in its own light and its own right, and under the principle of universality, support Taiwan as full and equal member in the international family of nations.
A speech by President Tsai Ing-wen to a joint session of Congress would be a good starting point for this process.
Gerrit van der Wees is a former Dutch diplomat. Between 1980 and 2016 he served as editor of Taiwan Communiqué. Currently he teaches History of Taiwan at George Mason University.