Is This the Closing of the Kazakh Window Into Xinjiang?
With the arrest of Serikzhan Bilash, a movement that gave the world a view into the Xinjiang crisis has an uncertain future.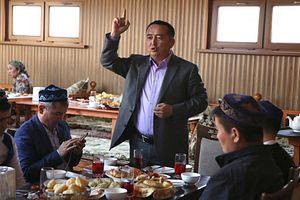 Last week I asked, "When will the Kazakh window into Xinjiang close?"
Over the weekend the window began to close with the arrest of Serikzhan Bilash, the leader of Ata Jurt, an organization that has been focused on amplifying the voices of those whose relatives have been detained in Xinjiang's camps.
Bilash, who was born in Xinjiang and is a naturalized Kazakh citizen, formed Ata Jurt in the spring of 2017. The group taped hundreds of testimonies from the relatives of those who had gone missing, most presumably detained, in Xinjiang. Ata Jurt also organized events with relatives and letter writing campaigns.
As the pace and scale of detentions in Xinjiang accelerated, ethnic Kazakhs with relatives on both sides of the Kazakhstan-China border came to occupy a position of critical importance in international reporting. Numerous reports about the camps established by the Chinese government to detain the Muslims of Xinjiang — Uyghurs, Kazakhs, Kyrgyz, and others — cite the experiences of ethnic Kazakhs. It cannot be overstated how important Bilash's activism has been to the sum of what we know about the situation in Xinjiang.
According to reports from RFE/RL, Reuters and Eurasianet, Bilash was taken by security forces from his hotel room in Almaty around 2:30 a.m. and flown to Astana. Bilash has reportedly been detained on suspicion of inciting "national discord or hatred." Leila Adilzhan, his wife, speaking to the Associated Press, said, "I'm afraid our government will give him to China."
Adilzhan also said Ata Jurt's offices were being searched by the authorities. Aiman Umarova, a lawyer advising Ata Jurt, called his detention "politically motivated."
"Bilash's arrest is connected with his actions against Chinese camps, and his support for Kazakh people and other Muslims in the camps," Umarova said. "Our government doesn't want to spoil relations between Kazakhstan and China."
Bilash has been under increasing pressure by the Kazakh government in recent months. In November 2018, he told NPR that the Kazakh government had warned him four times to cease his activities.
"They're silent about this because they need Chinese money. They've sold their religion. They don't want heaven. They want renminbi," he told NPR.
In February 2019, Bilash was fined 252,000 tenge ($670) for leading an unregistered organization. He said that the Kazakh government had twice denied his attempts to register Ata Jurt in 2018.
According to Eurasianet, an open letter was published recently in which a group of "well-known public figures" in Kazakhstan criticized Bilash for sowing discord among the Oralman, foreign-born Kazakhs who have become naturalized citizens in the country. "They also accused him of inciting hatred, ostensibly toward the Chinese. Issues relating to Xinjiang should be the preserve of bilateral negotiations, they said."
Last week, after pondering the significance of recent reports about the situation in Xinjiang, anchored in testimonies of ethnic Kazakhs and Bilash's organization, I wrote:
When will the Kazakh window into Xinjiang close? The important factors to keep an eye on are how Astana responds to growing domestic concern about Xinjiang, how well (or not) Beijing tolerates Kazakhs speaking out about the situation, what kind of pressure Beijing may direct at Astana to quiet the noise, and what the state and public responses to such efforts will be. Kazakhstan's authorities have little tolerance for public protests and Kazakh citizens have few avenues to influence their government's actions.
It appears, as another regional watcher commented to me recently, that Astana has a hard limit to how much agitation it will accept. Bilash's arrest demonstrates that Astana plans to respond to growing domestic agitation much as it always has: With intimidation tactics aimed at securing silence from problematic individuals. Bilash, like many accused of various kinds of "incitement" in Kazakhstan, is likely to be charged, convicted, and packed off to prison. Or, as his wife fears, he could be handed over the China.
Reuters cited Chinese Foreign Ministry spokesman Lu Kang commenting on Bilash's arrest with a smear: "According to what is understood he may have some debt problems in China… This kind of person has ulterior motives to make things up. I think the aims behind this need no explanation."
Lu is correct: The aims behind Bilash's detention need no explanation.
Astana wants him and those like him to be silent because they expose the weakness of the Kazakh government. Kazakhstan's position is difficult. Across the border, one of its largest economic partners has been detaining ethnic Kazakhs, the very same people Astana not so long along was trying to court to return to their homeland. Kazakhstan has been a key partner in China's Belt and Road Initiative and while the government has acted through diplomatic channels to secure the release of some Kazakh citizens, the state has remained quiet on both the ethnic and religious dimensions so obviously in play.
The silence of Kazakhs on the tragedy unfolding in Xinjiang will be deafening. Who will speak for those detained now?